The sophistication of the internet and modern technology has spawned a new type of professional culture: the work from home culture.
More and more companies these days are opting for this remote setup. In the United States alone, roughly four million employees report working from home at least half-time.
Having a remote team has all kinds of benefits; it decreases overhead costs, allows you to draw in talent from a much wider geographical spectrum, gives employees more freedom, etc.
However, as great as this all sounds, it's not always a perfect world. Being that this phenomenon is still incredibly new, there are plenty of obstacles that managers face in this regard. Whether it be technical issues or keeping productivity levels healthy, the work from home culture has certainly had its fair share of growing pains.
Luckily, it's looking like the kinks are being worked out – slowly but surely. Even better, as the world becomes more mobile-friendly, executives now have the ability to manage remote teams directly from their smartphones. Here are 11 ways they can do so.
1. Use Team Communication Tools
First and foremost, the success or failure of a remote team can all be traced back to communication. Poor communication can derail a project quicker than anything else. Unfortunately, email simply doesn't cut it when it comes to internal discourse. Studies have found that the average person receives around 90 emails each day. This number encompasses messages from clients, suppliers, co-workers, etc. If email is the only mode of internal communication, important queries tend to get lost in the shuffle. When this happens, it's way too easy for things to slip through the cracks – especially within a remote team where employees don't sit in close proximity.
The good news, there is no shortage of effective systems at your fingertips. If you haven't already, don't waste any more time in implementing a reliable system. Free tools like Skype for Business make the process of sending and receiving instant messages a breeze between employees. Even though this tool made a name for itself with video chat, the instant messaging feature is perhaps the most useful aspect of the platform when managing a remote team.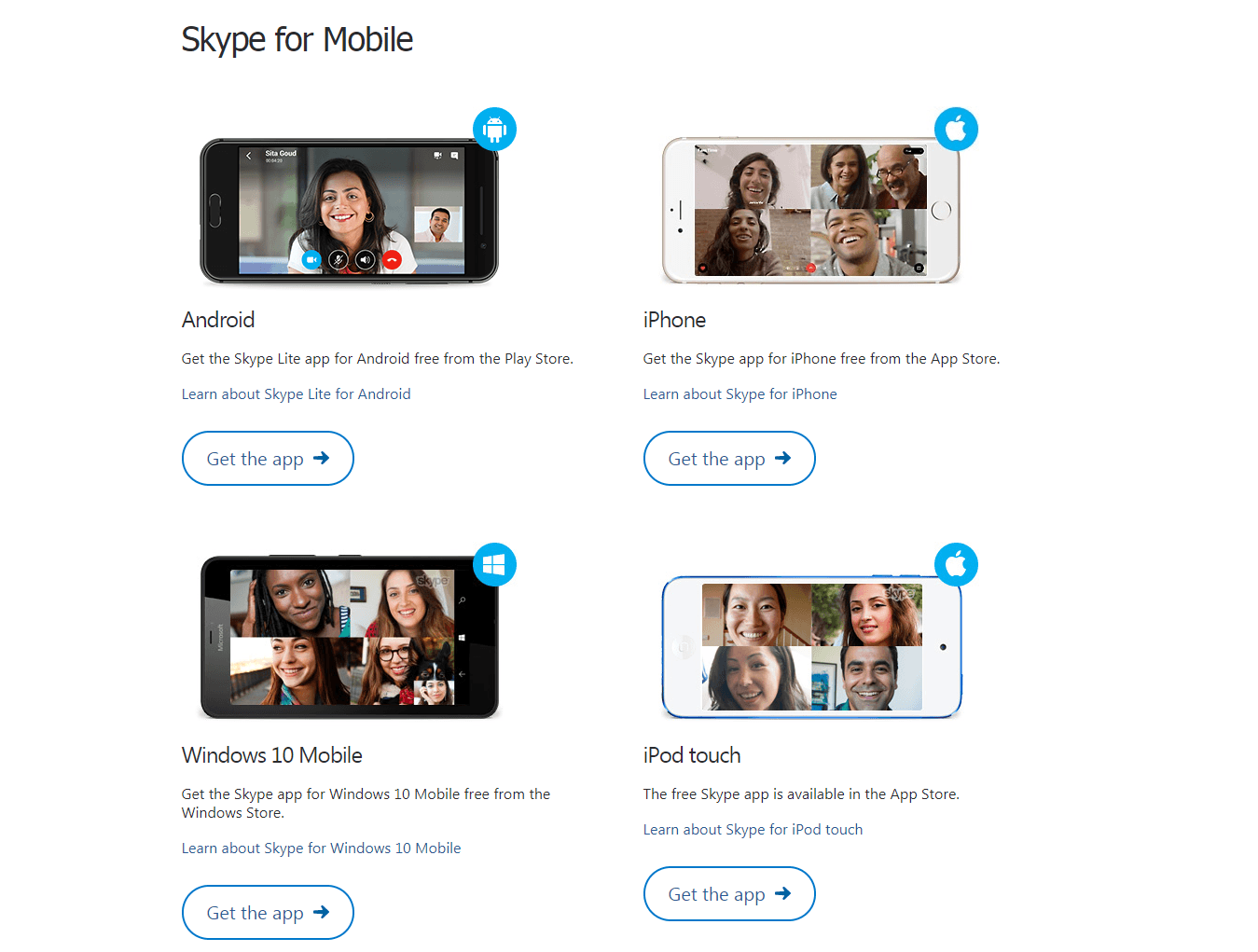 The best part about Skype is it has been around for years and had plenty of time to grow and develop. The system works wonderfully across all mobile devices and allows you to quickly chat one-on-one with team members or in a group message. If you need to make an audio or video call, Skype is second to none.
2. Always Have a To-Do List
Delegation is a crucial factor in any professional organization. Without an effective system, it's much harder to keep everyone on track. Regardless of your business goals, to-do list programs are essential for remote teams. Even more, when they are compatible on mobile, tasks are incredibly easy for managers to assign and for employees to gauge.
A 2016 global survey conducted by Deloitte found that 61% of people check their phones within five minutes of waking up. With this in mind, a mobile-friendly to-do list is a quick and easy way for remote workers to see what their day will entail over morning coffee.
There are all kinds of listing tools out there designed specifically for business. However, Trello leads the pack. Its simplistic approach to the traditional to-do list is what makes it so effective.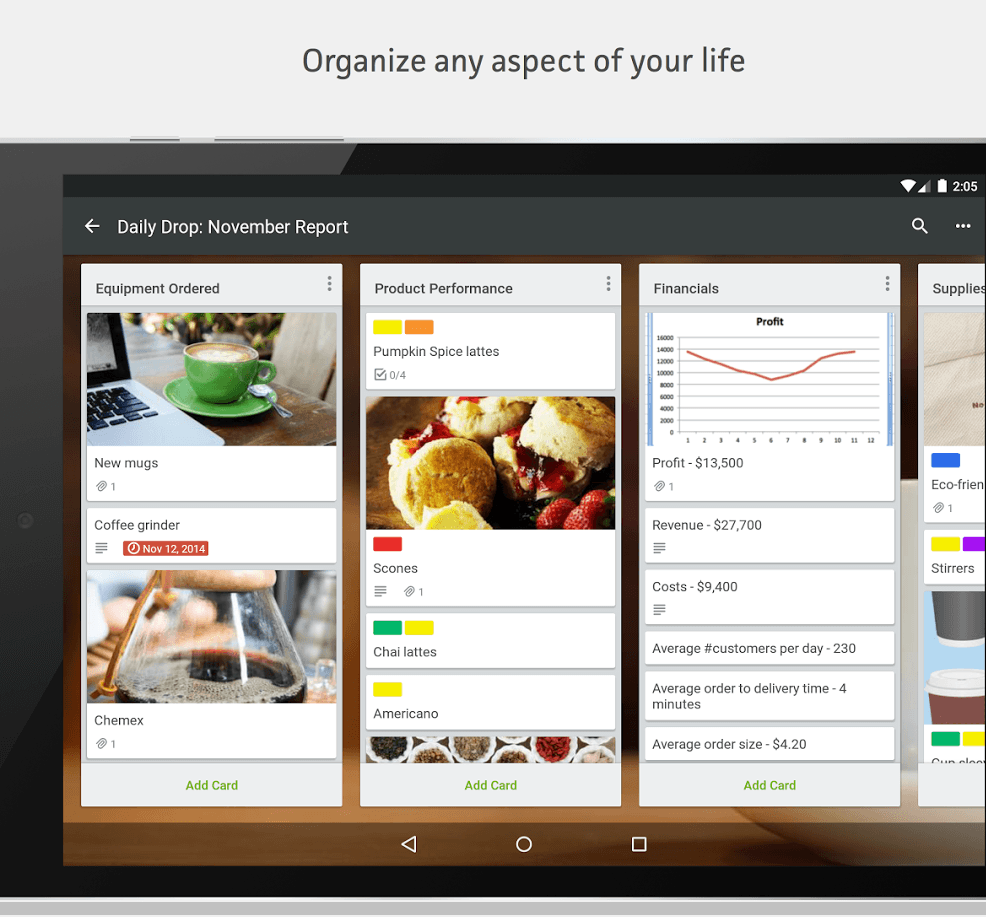 Managers are able to create task cards and arrange them on project boards in accordance to priority. The interface translates smoothly to mobile so remote teams have a clear-cut grasp on what needs to be done each day. When employees complete the task, they can submit completed work directly on the card and move its status along to completion.
This tools makes things easy for managers as they can assign tasks for the entire week and check-in to make sure work is getting accomplished. Trello has been tested time and time again and continuously proves to be a favorite tool for remote organizations.
3. Make Your Productivity Analysis Data-Driven
Productivity can be one of the biggest challenges to a remote team. When employees work from home, there are all kinds of distractions that stand in the way of getting work done. Rolling out of bed can be a struggle when there is no manager keeping track of when people sit down at their desks. Checking Facebook is all too tempting when no one is there to observe work patterns. One more episode on Netflix can be an easy decision over lunch. The list goes on and on.
Managers obviously cannot allow poor productivity, as it significantly influences the bottom line. When dealing with a remote team, there will always be a certain degree of freedom. Managers need to place trust in their employees to get their work done efficiently. However, expectations need to be made clear and there should be data-backed reports for how productivity relates to project completion.
Comprehensive reporting in this regard is more important than most people assume. Big data's influence over business procedures has been working its way toward center stage in terms of how companies operate.
Harnessing remote workers' productivity will always be a challenge. With proper reporting, the hard answers that reveal how a team functions will be crucial for the long term survival of a company.
Keep in mind, data means many different things to different organizations. Managers will be wise to educate themselves on how to effectively use high volumes of data as well as its analysis for positive gain and business-specific applications. An online course such as the one from Zeolearn will help you use machine learning and cost functions to streamline productivity by enabling you to collect and analyze in-depth data as to how each employee is making use of their time to meet requirements.

The end result is an organizational process that lets you pinpoint the most relevant data sets and effectively apply them to your business model. With the help of the right domain experts, weaving complicated information and turning it to actionable insight is simplified.
Successful businesses start on the inside. Knowing exactly how to apply productivity data to the bottom line is critical for how a company continuously refines itself.
4. Have a System for Collective Document Editing
In a professional environment where effective teamwork is the name of the game, remote organizations can have it tough. This can sometimes prove to be the biggest obstacle holding companies back from achieving their best. There should be a seamless program in place where employees can collaborate on a variety of tasks.
Luckily, the collaboration aspect of remote companies has come a very long way in the last decade. Nowadays, employees can simultaneously work on and edit documents no matter if they are sitting next to each other, or on opposite sides of the planet. Going further, people can now do this on their mobile devices – wherever they might be.
When discussing the process of editing shared documents, there is no better tool than Google Docs. Designed to perfectly accommodate nearly every type of device, the top-to-bottom interface allows people to pull documents from a plethora of sources such as Dropbox, Onedrive, and of course, Google Drive. From here, users can have full visibility of their documents on both iOS and Android as they can easily edit, update, and present information as needed.
Editing documents is a constant task for most businesses. In a remote setting, this process needs to be made simple where both employees and managers have the ability to work as a unit and produce the best results.
5. Instill Deadline Reminders
Even the most organized office workers can struggle for the first few months when adjusting to remote life. There will always be pressure on remote teams to perform exceptionally well. If not, managers may be forced to abandon this type of operation in order to ensure work gets done. At the end of the day, the ability to meet deadlines is what defines a successful remote team. Failing to do so not only makes managers look bad; it makes the entire concept of working from home look bad.
That being said, it's absolutely imperative that there is a solid program in place keeping deadlines organized with reminders.
For this purpose, Smartsheet is a fantastic automated tool that will keep you and your team up to date on every deadline, change, and upcoming tasks with alerts to notify when the time is approaching.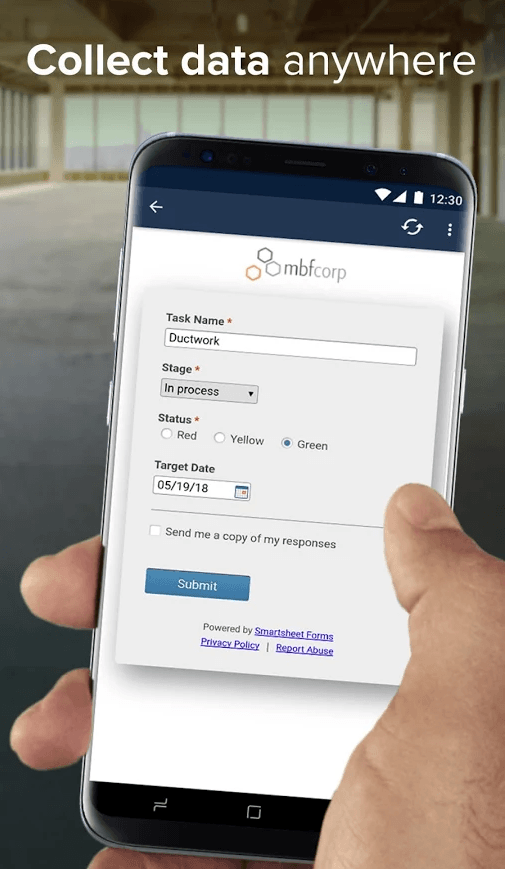 Using Smartsheet, you can easily lay out an entire project so you don't have to manually remember all the finer details. The system then sends email alerts in regards to deadlines so there are no unpleasant surprises when the time comes. As a manager, you can simply assign all the automated reminders to the employee(s) they pertain to. With this tool, work processes will always stay on track.
A reliable system to keep deadlines in order is one of the most basic, yet essential investments a remote manager can provide to their team.
6. Track Project Progression
As previously discussed, keeping remote employees on track throughout project execution can be one of most difficult aspects of the entire operation. It's much easier to have a handle on progression when co-workers are sitting next to each other carrying out tasks as a team.
The term "projects" in business is very, very broad. However, one thing they ALL have in common is the need to get finished. The reality of the professional world is that companies are almost always juggling a multitude of projects at once. Unfortunately, some can easily overshadow others in terms of priority or urgency. When this happens and employees feel like they are being pulled in too many directions at once, progression of certain projects can get lost in the shuffle, or downright forgotten. It can be difficult to try and refocus on certain tasks after stepping away.
A program that provides intuitive tracking on task completion is necessary to make sure this doesn't happen for a remote team, especially if a company is in the midst of rapid growth.
Workzone is a feature-rich tool to consider in this regard. You can implement project management and collaboration principles to keep tabs on everything going on throughout the day-to-day. The Project Tracker is one of the best features that facilitates on-time task completion – it equips managers and team leads with in-depth progress reporting, supplemented with Gantt charts, to lay out the exact timelines and milestones needed for every task.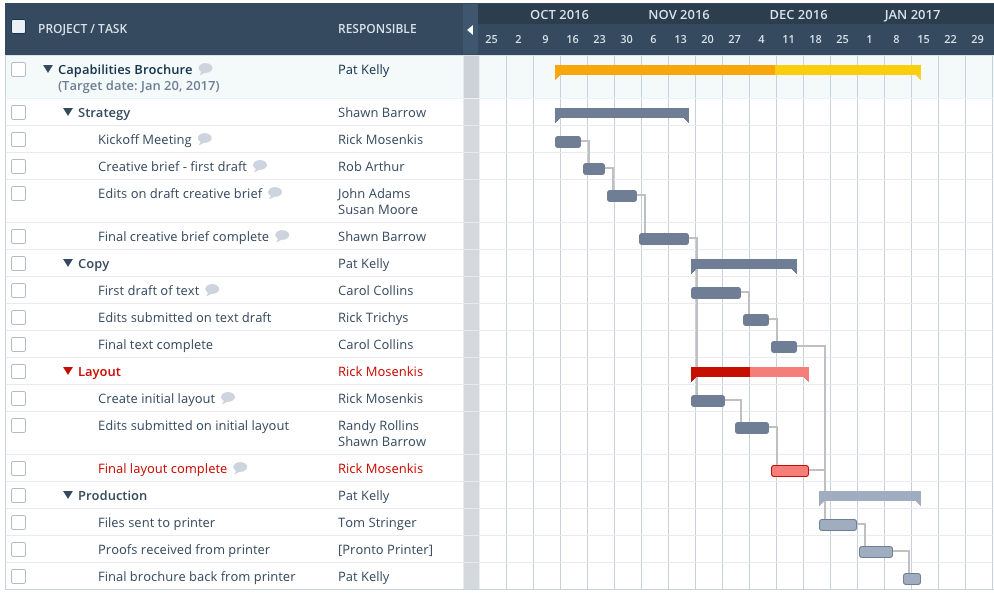 It is also optimized for mobile usage so reports and statuses are more accessible for everyone.
7. Enable Visual Collaboration
Humans are visual creatures. In fact, some studies claim that the brain processes visual data up to 60,000 times faster than text, and 90% of the information transmitted to the brain is visual.
When you're managing a remote team, there probably isn't a physical meeting room where teams can get together and personally convey their ideas to each other. In the early days of working from home, this was a major roadblock. These days, this task is much easier as there are all kinds of visual collaboration tools available to help the cause.
If you manage a team of remote designers, content creators, or anything that involves detailed visualization, tools like Conceptboard are more than just recommended, they are practically a requirement.
Conceptboard works on many different levels. The group-oriented canvas allows people to create content, share it, build moodboards, provide feedback, brainstorm ideas, map out strategies, and much more. Live team discussions take place directly on the shared content so there are hardly ever issues in terms of context.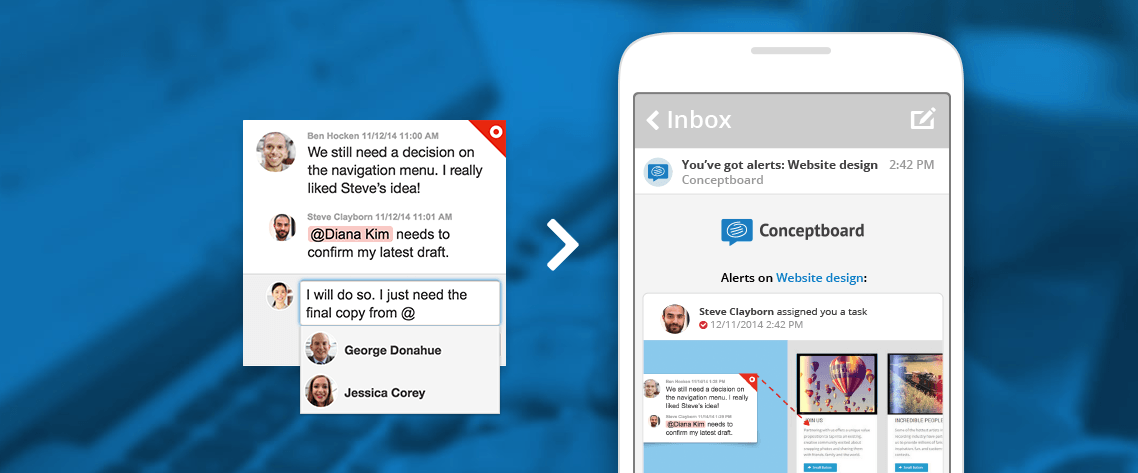 Regardless of how many visual projects you are coordinating, this tool does an outstanding job in keeping everyone on the same page so teams get work done quicker and more efficiently. Designed with the mobile user in mind, Conceptboard allows these sessions to take place virtually anywhere without compromising the quality of the UX.
In the modern business world, visualization is everything. Luckily, this idea can be easily achieved these days, even in a remote setting.
8. Enhance Customer Service Communication
It's no secret that customers today are more impatient than ever. There are now all kinds of channels in which people can reach businesses. Whether it be email, social media, live chat, or phone, the trends are saying that customers expect a quick response – the customer service of online storefronts needs to be faster than ever.
Customer service has quickly become one of the best predictors of a brand's success. In the age of the internet, it is far from a 9-to-5 task. As remote life begins to take over work cultures, the classic vision of customer service representatives sitting in giant call centers is taking on a new form. Employees now have the ability to virtually handle customer queries wherever they please.
Managers are responsible for every interaction a customer has with a business. A remote team can easily complicate this role. The good news is there are resources to help with this issue.
Desk, for example, is an excellent tool that does wonders to help managers with customer service communication. As part of Salesforce, this tool is top-quality. What is does is compile customer queries from all different sources into a unified platform.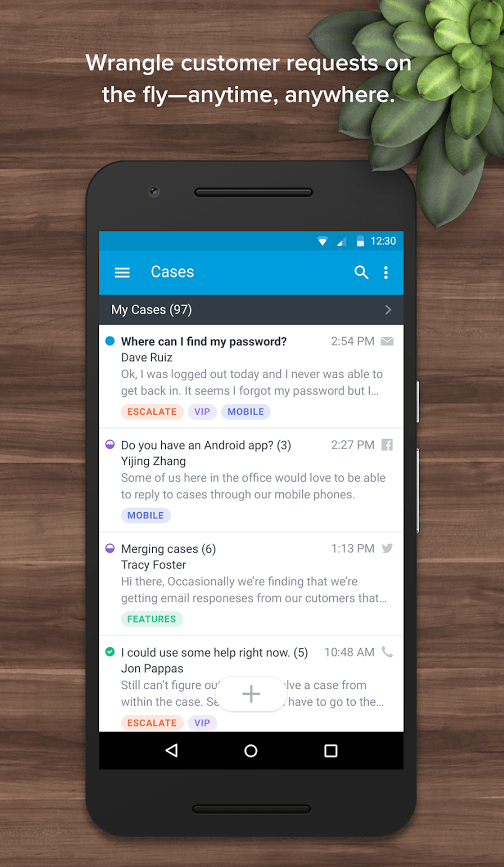 It's easily accessible for mobile and has a universal inbox system so managers and service reps can have full visibility on customer inquiries and how they are handled. The program also enables managers to store customer profiles, assign cases to reps, and track interactions on the go.
Even more, managers can create a set of service rules and procedures and categorize inquiries for the most optimal responses. From here, the program provides customizable reports that yield valuable insights for long-term improvement.
Customer service is a factor in business where even the smallest lapse in judgement can have detrimental consequences. This concept is complicated when a team is working remote. For this reason, managers need to have a constant view of the whole picture.
9. Act on Employee Feedback
As businesses grow and evolves, employees should follow suit. This is how company cultures are developed and people reach their professional goals. As it's much harder to monitor and keep up with progress throughout the day-to-day when managing a remote team, open communication is one of the most important things executives can stress.
For a healthy company culture to thrive, there needs to be focus on constantly improving the internal status quo. This is no easy task when workers do not share an office. It can be extremely difficult to understand exactly how engaged employees are with the company when they work from home. These crucial insights give managers an idea of who the most valuable people are, how the company can better meet their needs, what the future looks like, and most importantly, how the internal structure can improve.
Increased mobility can make this process much easier for managers. Therefore, choosing the right tool can make or break the development of a company culture. Programs like Weekdone are incredibly versatile in that the UX can easily be applied to just about any business model.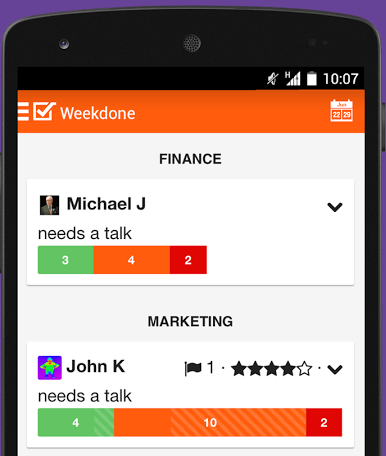 Using the dynamic system, executives can merge project management tools like Asana, Basecamp, and JIRA to create and run progress reports to shed better light on the typical employee workflow. The reporting feature then executes a driver analysis to pinpoint where the weaknesses are within an organization, as well as the most important drivers for employee engagement. Employees can then chime in with their own ideas for improvement.
A company culture is something that changes and grows by the day. Progress reports and feedback are crucial for learning the finer details of how employees work, how their performance progresses, and what can be done to foster a better work environment.
10. Use Time Tracking
Perhaps the most difficult part of managing a remote team is time tracking. As you are not able to keep an eye on employees throughout the day and not looking over anyone's shoulder, you are putting a great deal of trust into your staff.
Depending on the nature of the job, time tracking may very well be completely necessary to ensure people aren't taking advantage of the freedom that comes with remote life.
Especially when you are managing those who have never worked from home before, implementing a time tracking system is great for making sure people are staying focused.
ClickTime allows managers to do all of this straight from their mobile device. This software provides a flexible interface in which timesheets can be designed specifically for how a company operates. Employees' time can then be reported and translated to each relevant project.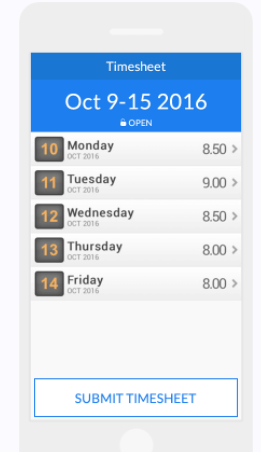 The tool is designed to help employees make the most out of each day. The reporting provides immediate insights as to how a team is performing in relation to big picture goals. The visibility of these reports help managers make more accurate estimations in terms of how much time will be needed for certain projects, as well as the budget required to hit milestones.
Precise time tracking is one of the most pressing needs when managing a remote team. In addition to learning how to properly optimize schedules, it helps to keep everyone working efficiently towards collective goals.
11. Make Video Conferencing Easy
In a remote setup, managers cannot call everyone into the conference room for a meeting whenever they want. Video conferencing serves more of a purpose than many people initially think. Most importantly, it significantly helps to take the guesswork out of decision making. In terms of managing a remote team, having the ability to hold video conferences provides a sharp focus where the impact of ideas can be seen – just like in real life. This makes the process of collaborating much more efficient as employees can swiftly brainstorm, refine ideas, discuss new solutions, and improve the overall dynamic.
Ultimately, the success of remote conferences all boils down the system. In the early days of video conferencing, quality and connection were often the deciding factors in the productivity and fruitfulness of a meeting. There is perhaps nothing more frustrating than trying to have an in-depth discussion while the video keeps freezing or cutting out.
As important as video conferences are to the success of a company's teamwork, the tool you use can make or break your efforts. Zoom has consistently been one of the top-performing video conference platforms on the market.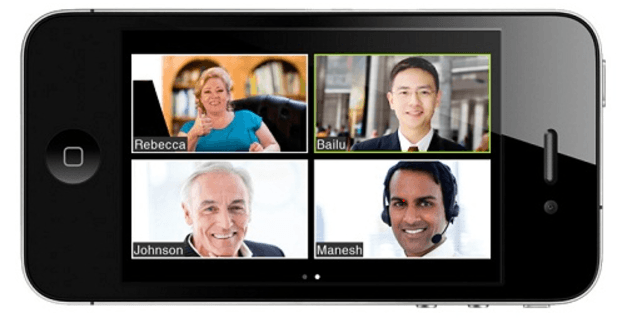 It allows managers to hold staff meetings and video webinars straight from their mobile device. The interface makes it overly simple to create, join, and contribute to a video conference with crystal-clear quality, wherever employees might be.
The increased ability to collaborate over video has been influential in making the remote style of business operations work. Think of your remote employees as the individual bricks that make up your entire operation. The video conferencing tool you use is the mortar that holds everything together so each brick can properly serve its purpose.
In Conclusion
The ability to work remote is one of the most liberating feelings the professional world offers. It allows people to travel, spend more time with family, cut down on unnecessary stress, and more. But, with all the advantages, comes a number of challenges. Managers need to know what they are getting into when dealing with a remote team. These mobile-friendly approaches can be influential in creating a smoother operation across the board.
---
About the Author: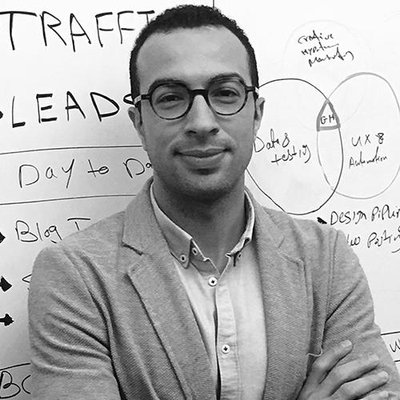 Mostafa El-Bermawy is a startup growth and marketing strategist. Over the past 8 years, Mostafa has helped brands such as American Express, P&G and Ford Motors refine their digital marketing strategies. Mostafa is also a regular tech contributor for Wired and BBC Arabia. He currently lives in New York and heads Marketing at Workzone, a leading project management software startup.