A small business owner who moves with the times, you go online to build awareness, engagement, and trust of your brand. The most powerful weapon to do that is texts.
You understand that web writers able to craft outstanding content are what your business needs for stellar website traffic and conversion. The best solution would be hiring outsourced writersto feed your ever-hungry content machine, wouldn't it?
In reality, there's so much more to it than that.
Despite the striking potential of cooperation with remote web writers, – which is well-directed landings, offers, newsletters, and million-strong profit from sales – it may cost you a ton of time and money spent on irresponsible employees who miss deadlines, deliver poor quality content, and disappear once they get busy with other clients.
Working with remote employees is about the interaction of personal traits, insights, and expectations. That's where business interests of companies and outsourcers meet: you want to buy cheaper and faster, while they want to sell higher and do it longer. To sidestep this conflict, you need to nail the process of choosing, hiring, managing, and monitoring the overall performance of your remote workers.
More than that, the efficiently organized working process with freelance writers will help to lower the cost of outsourcing as well as save your time and nerves for a more profitable outcome.
But how to work with web writers and not go mad?
Business Owners vs. Web Writers: What Is the Trouble?
The snag is that business owners and outsourcers have different visions of remote workers' duties and responsibilities. Misunderstandings about approaches to work take place, too.
The problems you might face:
1) Scatterbrains
They are writers who don't peruse your terms of reference, miss crucial details or simply ignore what you asked.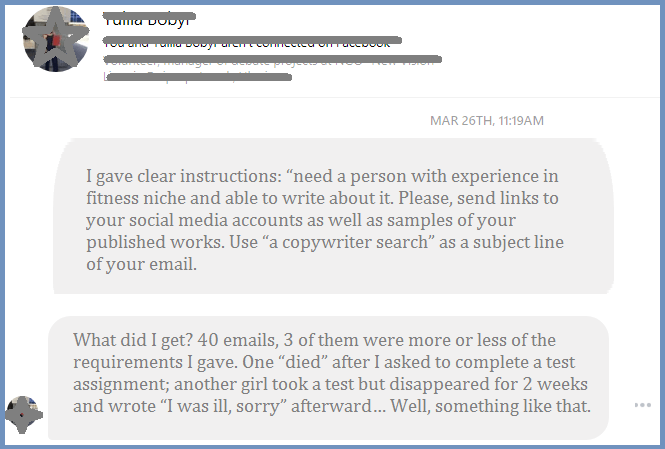 2) Amateurs
You need stellar texts that would make readers follow, subscribe, and place orders right off the bat. They should be beautiful, emotional, easy-to-read, fairly long, and corresponding with your brand voice. You want a web writer to complete such texts in a day or two, and it would be perfect if such texts were reasonably priced.
Websites like Freelancer, Upwork, or People Per Hour seem the best way to find outsourcers. You place an offer, choose a freelancer, and start working; deadlines come, and… nothing! You don't know what happened, but the outsourcer simply disappeared.
What to do?
You call a do-over: choose new writers, give them a task, and eagerly await the results. They send you ordered texts, but… the quality leaves much to be desired. So you continue looking for professionals over and over again, find an option you feel the most comfortable with, but the whole thing leaves a terrible taste in my mouth: "Professionals are rare as hen's teeth."
3) Poor stylists
Your outsourcer meets deadlines, writes informative and easy-to-read texts, but something is wrong. Those texts just don't sit right with you, and your heart is not in them. The problem is that you can't explain what's that "wrong" in particular.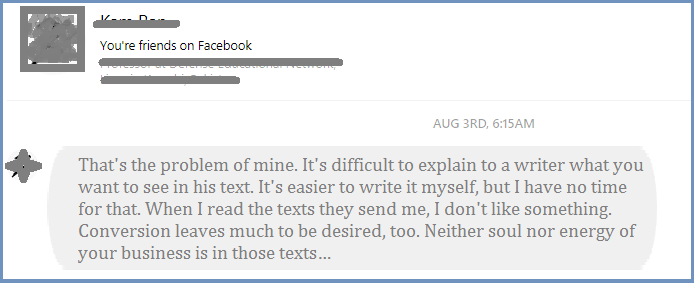 4) No sales
Some small business owners still believe that texts are key to sales. And they take offense and blame web writers for incompetence when hearing about design, SEO, targeting, and other aspects influencing their conversion rate beside a sale copy itself.
Remote web writers might suffer from your irresponsibility or misunderstanding, too. What can be a problem here?
1) Vague terms of reference
The "go I know not whither and fetch I know not what" mantra doesn't work for professional web writers. So if you can't provide high-grade terms of reference (learn below how to write them), experienced outsourcers will refuse to work with you: vague tasks signal about your failure to grasp the results you want to get.
2) No answers to questions
The sadder case is when you provide vague terms of reference and refuse to answer corresponding questions a web writer might have on the task: your target audience, USP, promotion tools, partners and competitors, etc.
"Why do you need that?" you ask. "You write a text, not a novel about my business, don't you?" This kind of attitude signals about your unwillingness to cooperate with remote employees and lack of understanding about how to organize working processes.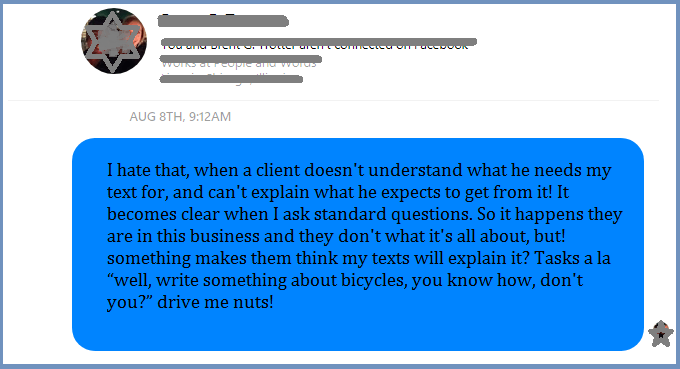 3) Prices
You check a portfolio from another web writer: everything is great, but why does he ask $150 for an article? Could it be true for texts to cost so expensive? After all, it's nothing but words, isn't it?
The snag is that small business owners want to get more for less. More often than not, it's true of green marketers, but many web writers still face such clients today. The other extreme is you are ready to pay high prices and expect to get super-duper texts in return. Price doesn't equal quality, so you should understand how to treat your writers to their merits.
"How do I know how much to pay?"
Cheap services don't equal poor quality.

For example, students of art schools or philology departments can write and are ready to freelance though newbies in this sphere. Their services won't be highly expensive because they lack experience, but it doesn't mean they won't be able to create compelling content for your business needs.
Value captivating content.

High-quality texts, as well as visuals, help you achieve business goals. So, they are worth their money. A pro writer will understand if you explain why you don't want to pay for wordage: just decide on the maximum word count and agree that you pay for a content unit.
4) Definitions mess
Make sure you understand the difference between copywriters, bloggers, journalists, and other men of pens. Far from every text is an article, and web writers go mad when you tie up into knots and can't explain what you want from them: a Facebook post, a press release, a review, a blog post, a story, or a research paper.
Depending on the type of text, you might need to hire different writers: a journalist won't write sales copies, as well as a re-writer won't create but paraphrase a landing page for you. (And it's a coin toss whether he knows how to paraphrase writings right.)
Business Owners vs. Web Writers: Who Is to Blame?
The above ins and outs lead to nothing but misunderstanding, conflicts, and poor results. It costs time, money, and nerves to both you and your remote workers; and instead of blaming each other, it is significant to understand who is wrong in each particular case.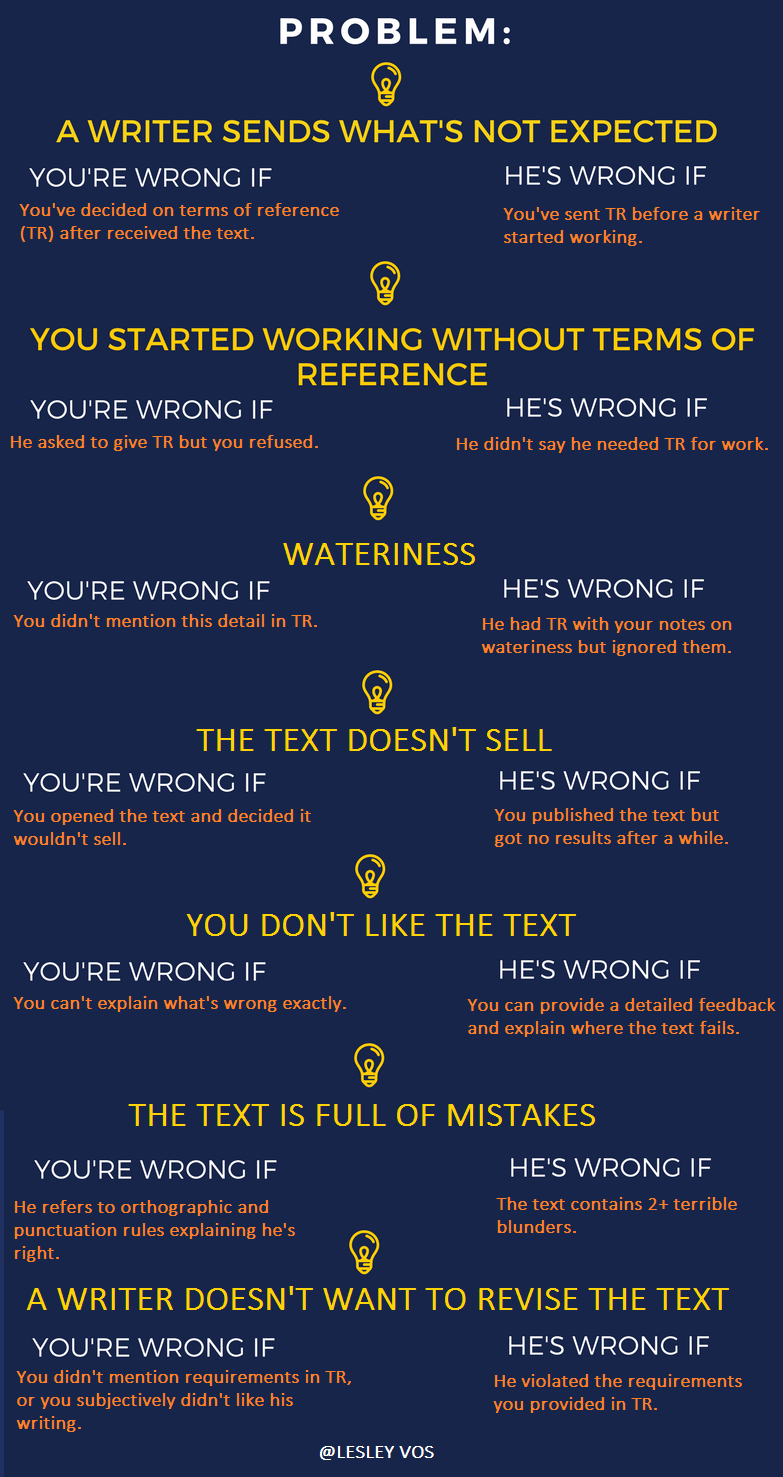 Your Top Mistakes of Working with Web Writers
For better communication and results, make sure to avoid these mistakes of working with remote employees.
#1. You believe a writer will do everything you tell him.
Sometimes, business owners get no idea of what they want from remote workers, – it's not about you, to be sure, but s**t happens – and they hire outsourcers to write about everything that comes to mind.
This kind of cooperation will never be a win-win.
If you hire a professional writer, then set a topic, provide clear terms of reference, and credit his opinion. An author is under no obligation to write from your dictation, but if that is what you want – make sure to discuss the details before you hire.
#2. Senseless number of corrections.
Do your best to proofread two, maximum three times. You can't revise the same text over and over again, and if this happens – something is wrong with your terms of reference, work process organization, or a writer himself. Find a reason, and eliminate it.
#3. Subjectivity.
Don't correct tiny writing details which are beside the point. Stay objective, as professional writers will never work with those rubbing their nose in the dirt. This kind of revision demotivates employees and make their writing endeavors senseless.
#4. No information.
Help your writers: give information, reveal details about your business, and share insights they might use in texts. It's not about writing in their stead but cooperation for better results.
#5. Surplus amenity.
Give no quarter to lazy web writers. If you don't like a text, then make comments and explain why you can't approve it. Share the first-rate articles samples with writers: they will get a better idea of what you expect from them.
How to Choose Web Writers For Your Business
In an age where everyone generates content (yes, even you do that when writing a post for Instagram or Facebook feeds), it becomes a big challenge to find a professional web writer able to evoke desired emotions from readers and attract them to drive a customer action, profitable for your small business. You need someone who would deliver a message, not just put words on paper.
With that in mind, you go online to find remote employees who will create relevant, valuable, and consistent content aimed at completing your customer funnel.
How to choose them? What details to take into consideration for more efficient results?
In the article for Jeff Bullas' blog, Chris Warden unlocks his secrets to finding great writers, explaining what aspects he pays attention to while looking for writing help. His top five are:
Timeliness:

a writer should be able to meet deadlines.

Voice:

creativity and own style are significant for great writers to have.

Adaptability:

a professional author pays attention to where his content is going to live, adapting his style accordingly. Those carrying the same voice across all formats won't be able to produce compelling texts for multiple channels.

Research:

when examining a writer's portfolio, make sure his texts are based on facts, statistics, and expert thoughts. Neither-here-nor-there content is not what your business needs, is it?

Availability:

hire flexible writers, able to deliver content when you need it. It's not about unreasonable demands but time management: a 100-word Facebook post will hardly take a week to write, won't it?
These aspects seem obvious, and yet many business owners forget or don't keep them in mind while hiring. Or, they just don't understand what practical issues could help them check whether a writer meets all above-mentioned requirements.
And now, for the most interesting part:
3 Rounds of Web Writers Selection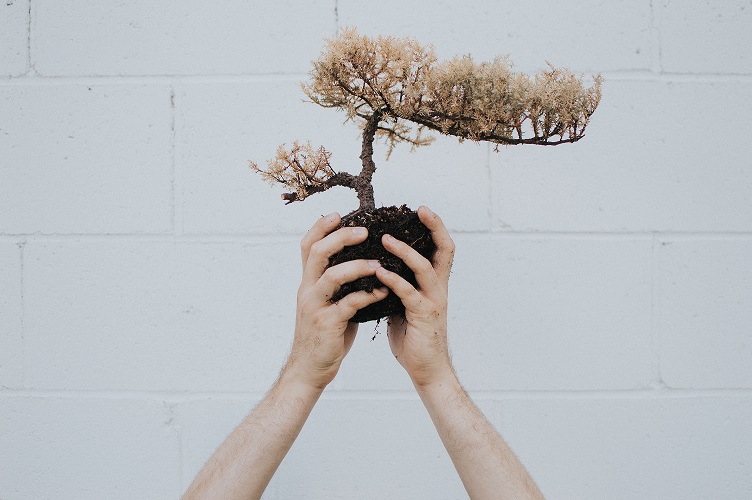 Round 1: attention and accuracy
Once you decide to hire a web writer, give clear instructions in a job ad for candidates. For example, the text might be as follow:
"To join our team, please send an email to name@gmail.com with NEW WRITER as a subject line. Provide a short cover letter describing your writing experience, and share a link to your social media profiles."
Create a Google or Excel sheet to log information about all candidates. Even if you need only one web writer, contacts of others could come in handy later. With three rounds of selection, you need to make notes on every writer's peculiarities that will help to choose a right fit for your business.
Once writers start responding to your call, pay attention to the following details:
Spelling mistakes, missing commas, and spaces.

If a person makes such teeny-tiny mistakes when looking for a job, he will continue making them in the future. And it's not about literacy but approach to the matter, i.e. how attentive and accurate this candidate is.
A subject line.

If a person sends an email with the subject line other than asked in your job ad, it says about his casual attention. Who said this candidate wouldn't miss significant details of your tasks? So, think if you need such an employee.
No formatting.

Is a person accurate when formatting his email? Does his text have paragraphs, shifts, lists? Suchlike details give a bad web writer away.
Round 2: approach to work
Sad but true:
Some authors practice rewriting from others, claiming those works as own. So when reading portfolios from candidates, you might see well-researched analytical texts, crafted by unknowns in fact. To check if a person does writing on his own, without editing help or paraphrasing, create a test assignment.
The same task for all candidates allows you to compare professional skills and approach to work: a tricky question a la "When do you think you can send a complete assignment for our review?" will help to see how soon a person replies and if he meets deadlines.
Round 3: depth of topic immersion
A test assignment isn't for making candidates do your job but understanding how they answer the bell.
For example, you have a private kindergarten and look for a writer who would create content for it. Your test assignment could look as follows: (Don't try this in real life!)
"Write a social media post about catch-up lessons in our kindergarten: football, yoga, and drawing. They will take place at 5-8pm, and cost $150. A kid can visit these lessons just after classes. This text should encourage parents to register their children for those lessons and answer all questions they might have. If you have any questions, please, ask. Also, I can provide you with teachers' contacts."
Yes, these terms of reference are awful! But they allow you to see what a writer would do in this situation. Will he ask for additional information to make a text better? Specifically, that task doesn't give any information about meal or children's age. Also, what do $150 mean? Is that for one class, week, month? So you'll see how a writer works with information lack and what he does to change that.
If you prefer interviewing candidates rather than emailing and checking their test assignments, you might want to know what to ask before hiring remote employees. In her article for HubSpot, Corey Wainwright shares nine questions as well as indicators allowing you to pick out a talented writer for your business. And once you've chosen the right candidate, it's time to organize a workflow for mutual comfort and better results.
How to Organize a Workflow For Remote Writers
To save time, energy, and resources, follow these simple yet effective rules for working with remote web writers:
Work in Google Docs, which is among the best resources for documents revision.

Create a separate folder of your project and ask a writer to save all files there. Otherwise, you won't find anything if stop working with that person.

Create a content plan in advance and specify deadlines for each text.

Decide on the formatting rules. Create a document describing them, and make sure to share it with your remote writers.
When hiring a person for writing long-form content, take the time to create precise terms of reference. (Keep on reading this article to learn how to write them 'like a boss'.)
To save time, enforce your terms of reference with a voice message for a writer to learn the details which might help him improve the text. But remember that a remote employee doesn't have to know the backstage of your business; give him valuable information on the topic rather than pour your heart out.
Pay wages on time. Discuss the details with a writer: will you pay for each text or whole project? Keep the agreement and don't let remote workers down.
Pay for a content piece even if you don't like it and decided to stop working with the writer. Speak to him, explain what you would change in the text and why you can't continue cooperation. That's not his fault you've missed non-professionals while hiring.
How to Write Stellar Terms of Reference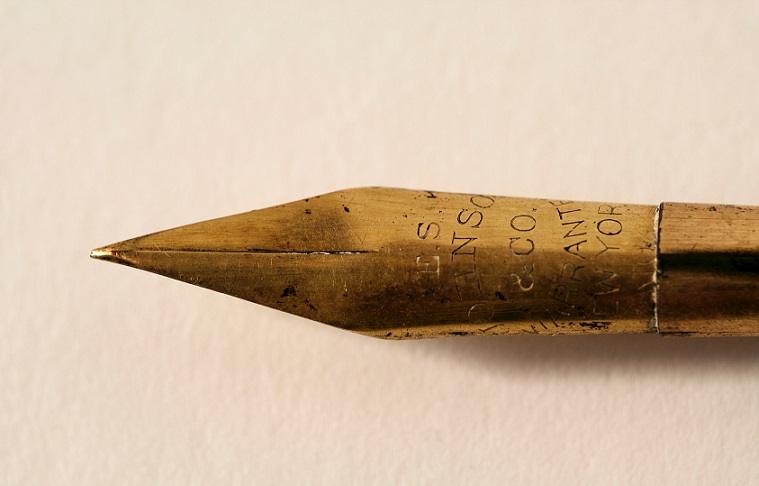 Guides on this topic are many, but the cart remains there still: you believe in writing perfect terms of reference and go mad each time when remote employees continue delivering not what you expected!
Can't they read?
They can. But business owners willing to work with professional authors should take the time and create professional terms of reference for their part. Benefits are as clear as noonday:
lower costs of outsourcing;

nailed process of communicating;

better management;

established long-term relationships with remote writers;

more efficient results and, therefore, higher income.
Long story short, let's see what you should do for writing precise terms of reference for your remote employees.
Tell them about your business
Sounds obvious, but many forget about this detail. Web writers might learn journalism, copywriting, linguistics, storytelling and much more but not your business. Don't work with authors who know nothing about your company.
The link to 'About Us' page could help, provided, however, that it has detailed information. Also, don't hesitate to share facts that might help a writer create engaging content or ask your in-house employee to assist outsourcers with that.
Set the aim of their work
All we need is conversion and sales, but short-term objectives of your content campaign are what a writer should know. Describe a content type your business needs at the moment – informative, entertaining, or marketing – and explain what message it should bring to the audience.
Reveal your target audience
If a writer works on your project holistically (landing pages, blog, social media), share Google Analytics and social profiles metrics for him to understand your target audience. Your followers might be of different age, gender, and interests at various channels; so the more facts a writer knows about consumers, the better.
Mention a text structure
Stellar terms of reference provide the information on formatting: how long paragraphs should be; how to format headings, lists, citations; what visual elements to include; what writing style to use, etc.
The content requires mentioning, too: what details to reveal and which are better to conceal; what experts and resources might help while writing; what, if any, language patterns to include or avoid in the text, and so on.
Get right on visual elements
Don't want your remote writers to use stock photos in articles? Write about it in your terms of reference and list the image types that would fit:
photos of your product (attach them to terms of reference, if needed);

photos made by a writer himself;

images created by your designers (ask a writer to describe what should be in them or attach samples).
Bring back to copyright issues
Even if a writer is not going to copy from others, it's hard to create expert content without references to already-existing research and data. The unintentional rewrite is what may happen, as well as poor paraphrasing, cliches, wrong citations, and other unpleasant moments leading to accusations of plagiarism.
Mention this detail in your terms of reference and share tools a writer could use to check articles before submitting: Grammarly Plag Checker, PlagiarismCheck.org, Write Check and others are great options to avoid duplications in texts.
And here goes an outline template you can use for creating terms of reference: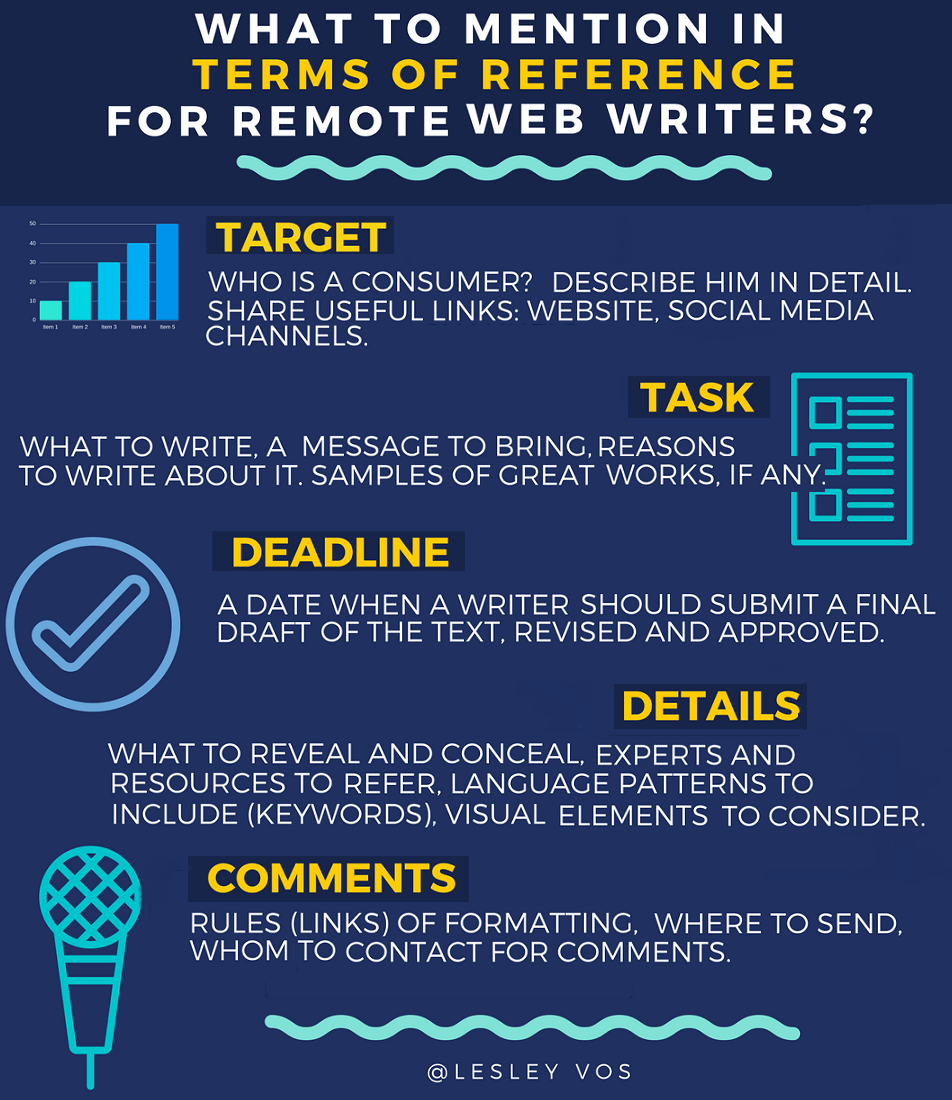 How to Control Your Remote Web Writers
You can give them terms of reference and wait. Or, keep records in Google Calendar and Sheets. Or, connect web writers to your business software. Whatever you choose, you should control their work for a better efficiency.
Working efficiency is a correlation between expenses (time/money) and results. The bare fact your writer sends texts is not enough; he needs to meet target dates, and you need to see you haven't spent surplus resources on that. What could be your criteria to analyze a working efficiency?
The time a writer spends on a task.

A number of tasks he completes within a defined period of time.

Tasks structure: how many are pending, expired, under review, etc.

Expenses.
How to check and control the working efficiency of your remote writers?
Google Calendar
This one is the easiest way to control a writer. Add tasks and deadlines to the calendar, assigning a color for different task types. For example:
new – green;

in process – yellow;

expired – red;

under review – blue.
Assign a task to your writer, and he will change its color once he starts working or adds comments.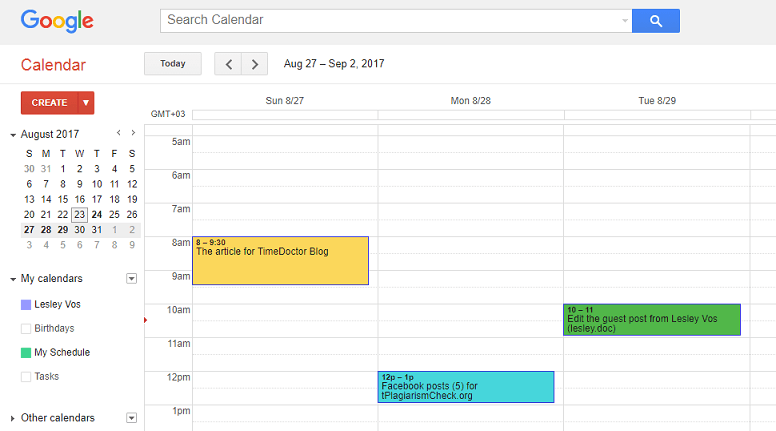 Pros: Google Calendar is free to use, visually compelling, allows to add comments, send email notifications once someone makes changes to the task.
Cons: You can't automate the process as well as analyze it – Google Calendar is only for gathering and visualizing the information; it's not comfortable for working with several writers – you'll get lost in tons of task details before long.
Google Sheets
Unlike Calendar, Google Sheets allow you to analyze a working efficiency. For that, specify known characteristics – the results you plan to get (let it be 1, 000 Facebook comments), execution time (24 days), reporting time (1 day) – and use the =В2/В3 formula on each column. Once your writer makes changes in the sheet, you will see his working efficiency for a chosen execution time.

Pros: It's free to use, allows to add comments and analyze results, doesn't require any specific knowledge, visually compelling, and easy to access.
Cons: It doesn't work for multitasking projects, so you will need to create a separate sheet for every employee. Also, it doesn't fit projects where efficiency can't be estimated at numbers.
Specific Software
Another option is a software, specifically developed for managing your business campaigns. It allows controlling and analyzing the working efficiency by more criteria: number of new, completed, and expired tasks; time; grades for each task; comments on criteria unseen by the software, such as employees' laziness or terms of reference violation.
Pros: It regulates communication processes, automates them, notes all details, generates reports, and allows to calculate expenses involved in every writer.
Cons: It's expensive to develop and integrate into your business; it takes time to train employees to work with the system; far from every business owner would risk permitting outsources to the in-house system of his company.
Wrapping Up
Still reading?
Great! It means you understand the benefits of hiring remote workers and want to organize this process the best you can. It's all about communication and interaction, so nail the every stage for profitable results:
Know all the pitfalls.

Understand when you're wrong, and don't blame outsources for your bad.

Organize the hiring process and workflow of web writers.

Provide clear terms of reference to get what you expect.

Don't forget to control and analyze a working efficiency and overall performance of your writers.
You work with remote employees to save time and costs. A proper organization of this process can save your nerves, either. Sometimes, it's worth more than money, isn't it?
---
About the Author: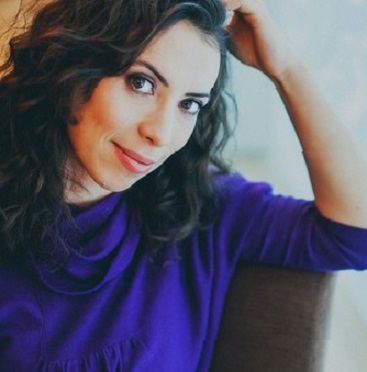 Lesley J. Vos is a professional web writer and content marketer, contributing to publications on business and self-development. Featured at 100+ websites, Lesley keeps on crafting her writing skills and can't imagine her life without travels, books, and dogs. (Okay, coffee is in this list, too.) Feel free to follow her in Twitter or check Lesley's Facebook to see more works of hers.