Many of us who have tried Toggl enjoyed it's ease of use and rich integration selection, but we need more when it comes to monitoring metrics, reporting analytics and associated features. Here we'll discuss the 7 most popular Toggl alternatives and how their features compare to one another. Be sure to review the reasons most time tracking software solutions are fundamentally flawed before making your decision.
Toggl alternatives for time tracking
Time Doctor
TSheets
TimeCamp
TrackingTime
Timely
Freckle
Staff.com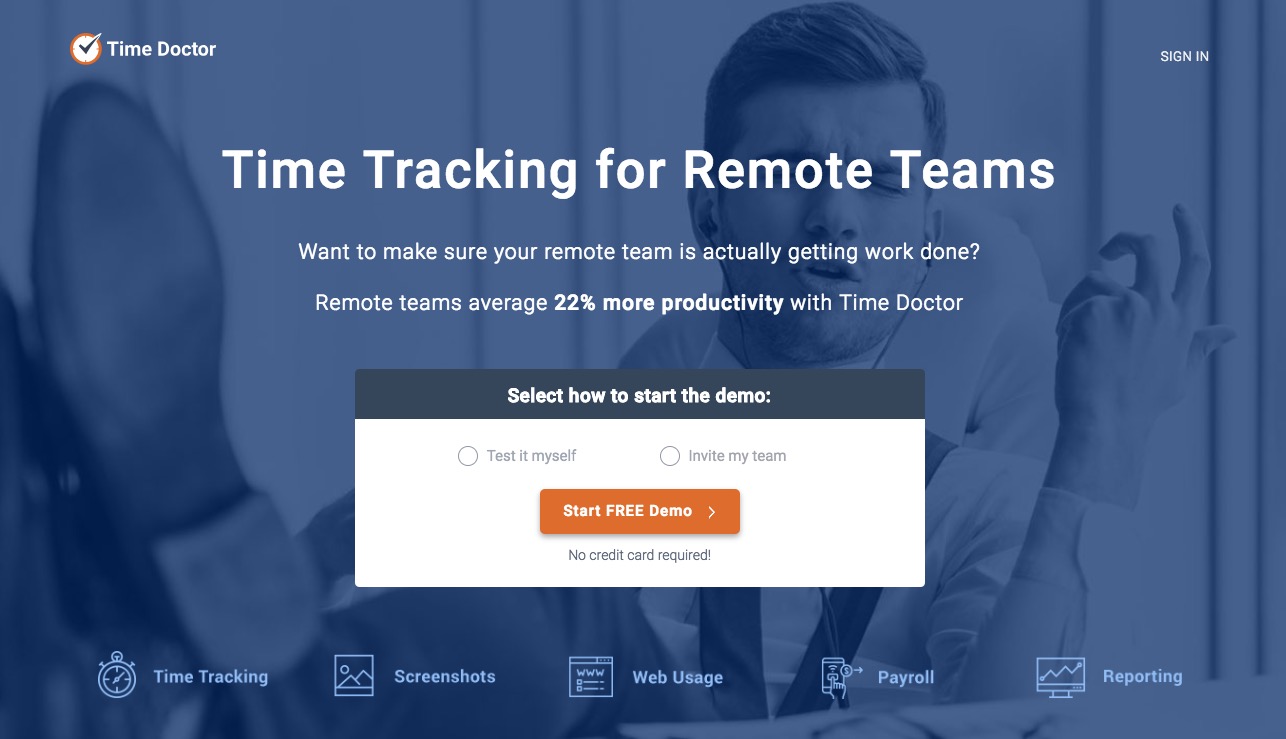 The biggest difference between Time Doctor and Toggl is that Time Doctor captures lots of other accuracy and productivity data when a user is tracking time, such as screenshots, keyboard & mouse activity, and more.
We have an in depth article on Time Doctor as a Toggl alternative you'll want to review.
You can sign up to try Time Doctor free for 14 days and watch your team become more productive and your business become more profitable.
TSheets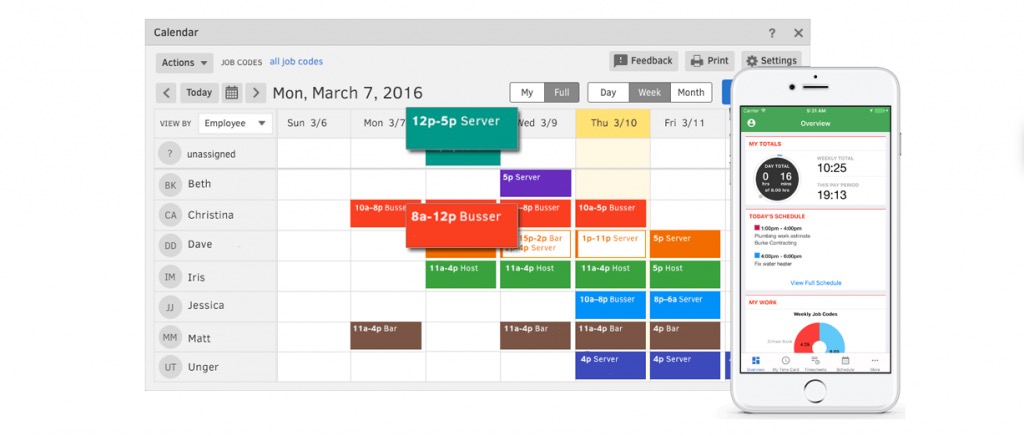 TSheets is another Toggl alternative that many consider.  It's feature set is close to Toggl, except TSheets does not have the option to track time on a desktop application.  Normally this would give Toggl the advantage because desktop application tracking normally allows for more detailed time use metrics, but Toggl has not built out these features so it's a wash.  With TSheets, time is tracked in a web browser (or on a mobile device).  TSheets ends up being more affordable than Toggl for equivalent features.
TimeCamp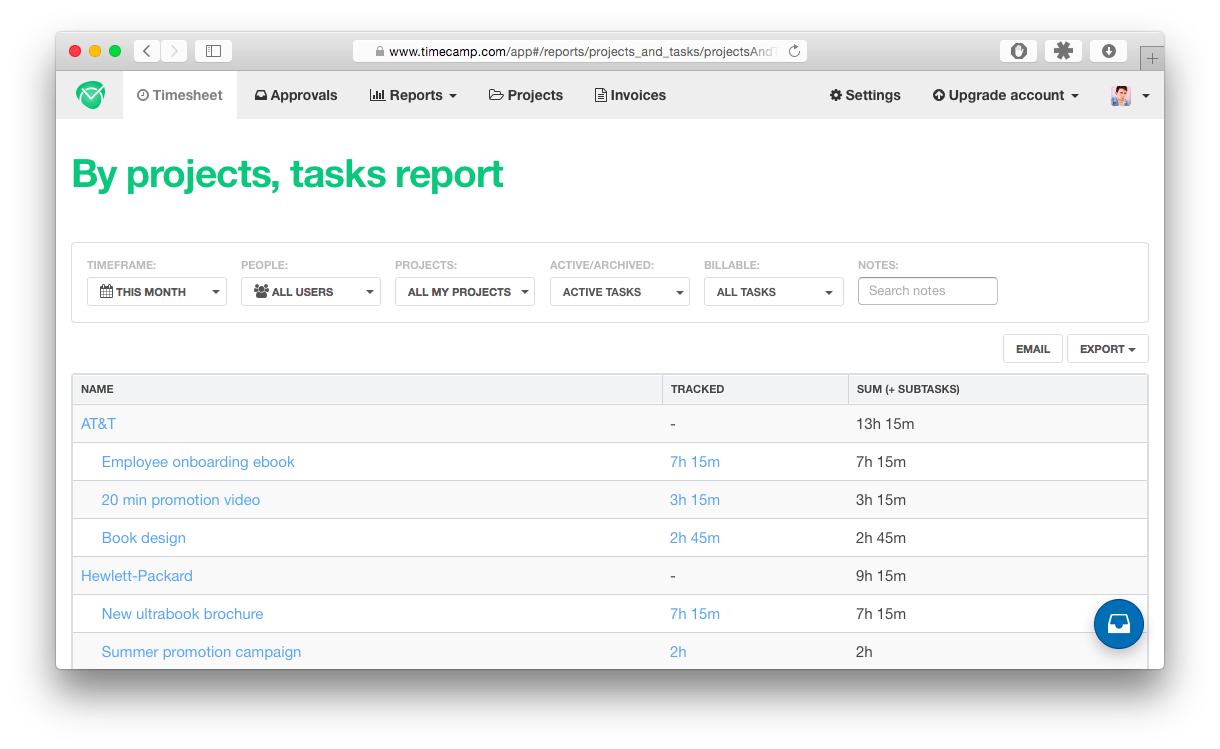 TimeCamp is another good Toggle alternative with its screenshot and website & application recording.  Time Camp is very strong in the integration department, but it doesn't record keyboard and mouse activity like some of the other options in this list.  It also lets the user automatically track time, so there is very little interaction needed from the user in that mode.
TrackingTime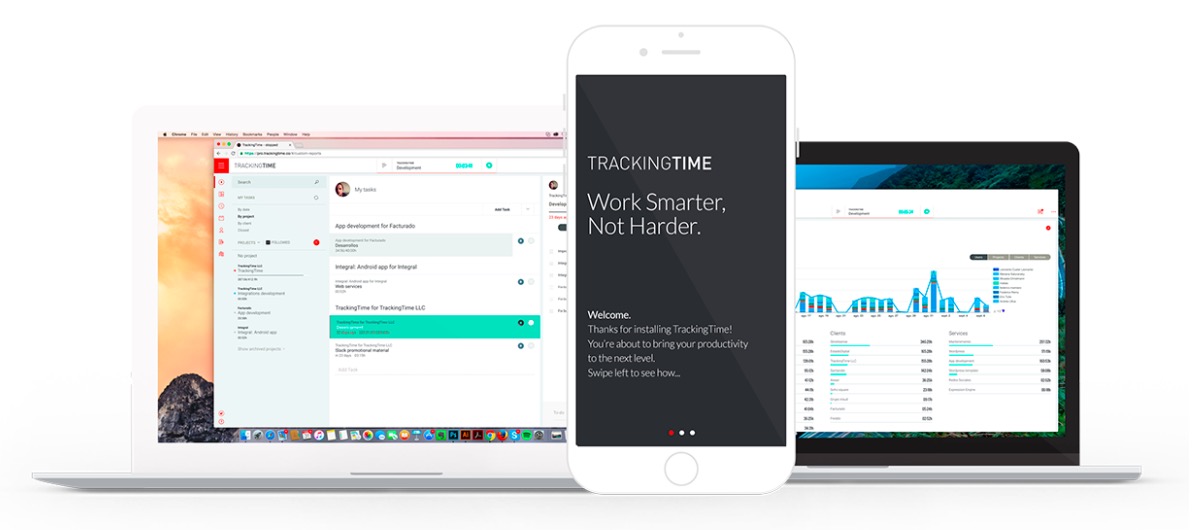 TrackingTime has some great Client/Service/Project customizations options built in, which make it good for billing and invoicing clients.  But it's lack of a Windows or Linux app makes it hard to track time without access to the internet.  TrackingTime is a sound Toggl alternative, and it is unique in that it offers per-hour per-month billing which could lead to big savings for teams that have a large number of part-time or contract workers.
Timely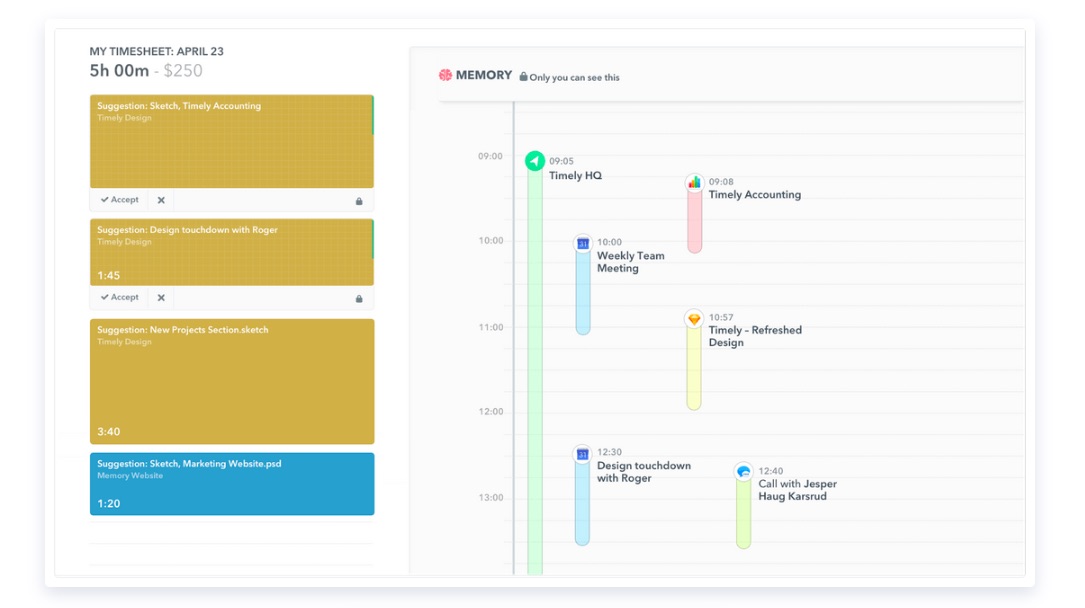 Timely operates a bit differently than other time tracking tools.  It relies heavily on it's integrations to send in tracked time instead of just importing tasks and projects from the other tools.  Time can be tracked inside Timely, but the objective is to have your tracked time sync in automatically through their integrations.  It's more of an integration hub as compared to Toggl, despite the fact that Toggl actually has more integrations.  This could result in Timely being one of the most hands-off tools, if you already use the other tools that it integrates with.  On the down side, the web based reporting features leave something to be desired.
Freckle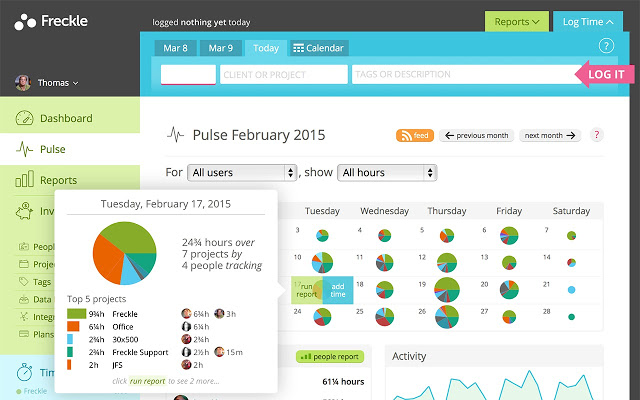 Freckle is very flexible and friendly, but it does lack in some standard features most other time trackers have such as custom task names.  The Payroll features in particular stand out against Toggl.  The lack of features in Freckle may be by design, as they recognize that tracking time, takes time.  So they really bank on ease of use and simplicity as their core selling point.
Staff.com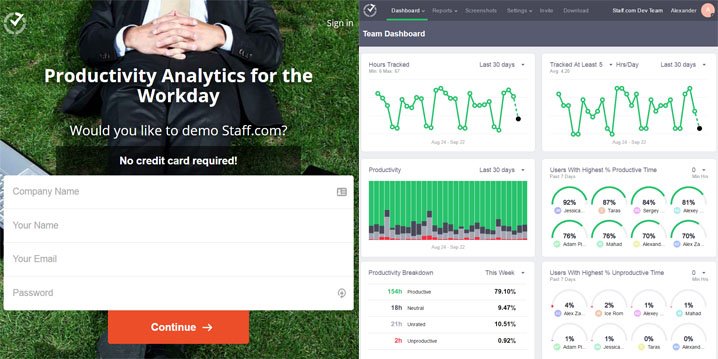 Tools like Toggl, Time Doctor, and TrackingTime are good for remote workers who should be able to stop tracking time whenever they wish.  But for employees working on premise on company hardware, a continuous background monitoring solution is more appropriate because spending lots of time on personal activities is not expected.  That's what makes Staff.com a great Toggl alternative in those scenarios.  Staff.com can be interactive, but most companies make use of it's silent mode to monitor and rate the websites and applications that employees use over time.  It has a very strong API that lets you build out custom, fully automated solutions for almost any tool.
You can quickly compare the features available in our selected time trackers with this features table:
Feature
Scroll down for more info
Price
$6 to $10
$4 to $8
$6 to $9
$10 to $59
$8 to $19
$4.99
$14
$6 to $10
Screenshot Capture
Yes
No
Yes
No
No
No
No
Yes
Webcam Shots Capture
Yes
No
No
No
No
No
No
No
3rd Party Integrations
30
15
46
83
6
21
Many
0
Keyboard & Mouse Activity Monitoring & Reporting
Yes
No
No
No
No
No
No
Yes
Website & Application Usage
Yes
No
Yes
Yes
No
No
No
Yes
Differentiate Between Real Time and Manual Time
Yes
No
No
No
No
No
No
No
Ease of use Getting to Reports
1 Click
2 Clicks
2 Clicks
1 Click
2 Clicks
6 Clicks
1 Click
2 Clicks
Time Tracking with Poor or No Internet Connection
Yes
No
Yes
Yes
No
No
No
Yes
Automatic Time Capture
No
No
Yes
No
No
No
Yes
Yes
Invisible Option
No
No
Yes
No
No
No
No
Yes
Custom Tasks
Yes
Yes
Yes
Yes
No
Yes
Yes
Yes
Custom Projects
Yes
Yes
Yes
Yes
Yes
Yes
Yes
Yes
Website Blocking
No
No
No
No
No
No
No
No
Full Free Trial Period
30 Days
14 Days
30 Days
30 Days
14 Days
30 Days
14 Days
30 Days
Desktop Time Tracking Required for Live Time
Yes
No
No
No
No
No
No
Yes
Popup Productivity Reminders
Yes
No
No
No
No
No
No
No
Payroll Features
Yes
No
No
No
Yes
Yes
No
No
Client Access of Real Time Data
Yes
No
No
Yes
No
No
No
No
API
Yes
Yes
Yes
Yes
Yes
Yes
Yes
Yes
Mobile App for Time Tracking
Yes
Yes
Yes
Yes
Yes
Yes
Yes
No
Client Side Desktop App
Yes
No
Yes
Yes
Yes
Yes
Yes
Yes
Browser Based Time Tracking
No
Yes
Yes
Yes
Yes
Yes
Yes
No
OS Support
Mac, Win, Linux, iOS, Android
Android, iOS
Mac, Win, Linux, iOS, Android
iOS, Android, Win, Linux, Mac
Mac, iOS, Android
iOS, Android, MacOS
Mac, iOS, Apple Watch
Win, Mac, Linux
Feature
Time Doctor
Tsheets
Time Camp
Toggl
Freckle
Tracking Time
Timely
Staff