Here at Time Doctor, we heard about the Brex card because they were the fastest growing startup in history, growing from absolutely nothing to a value of one billion dollars in less than two years.
With figures like that, I thought that they were worth at least checking out. I wanted to know if there would be any value for us at Time Doctor in applying for this credit card.
The first thing that I noticed were the great rewards they offer.
In particular, there are Google Ads credits as well as $5,000 in credits for Amazon Web Services, which is amazing. This benefit of the $5,000 credit alone was worth it for us.
We will talk more about these card bonuses and benefits further on.
The reward points system is also specially-attuned to startups as they offer 7x rewards on rideshares, 3x on restaurants, and 2x on recurring software charges.
We spend a huge amount of money on recurring software at Time Doctor, so the ability to earn 2x rewards on all of that expenditure is a really great option for us to take advantage of.
These reward points can all be used for traveling via the Brex Travel program, which I personally have not used but think is both an easy and flexible way to get some benefit out of the card.
So, let's continue on with this review of the Brex credit card!
The signup process
Believe it or not, the biggest benefit for us was the signup process!
Signing up from a Brex card was really easy and would be entirely possible for both non-standard and non-traditional companies to complete as well.
For us, in particular, we are a US company but have team members working from home all over the world.
As the founder, I am located in Australia, not in the US. That makes it very difficult for me to apply for any of the standard credit cards or corporate debit cards offered by conventional banks.
Brex, on the other hand, has a very streamlined application process. All I had to do was fill in a few details and connect my bank account, which is with a US bank.
They approved us really quickly afterward. Needless to say, I was really very impressed by the card's approval process.
Like any credit card, you can see a list of your transactions and get monthly statements. We were given a $30,000 card limit as default, but I expect that limits will vary depending on your bank account balance and/or credit history.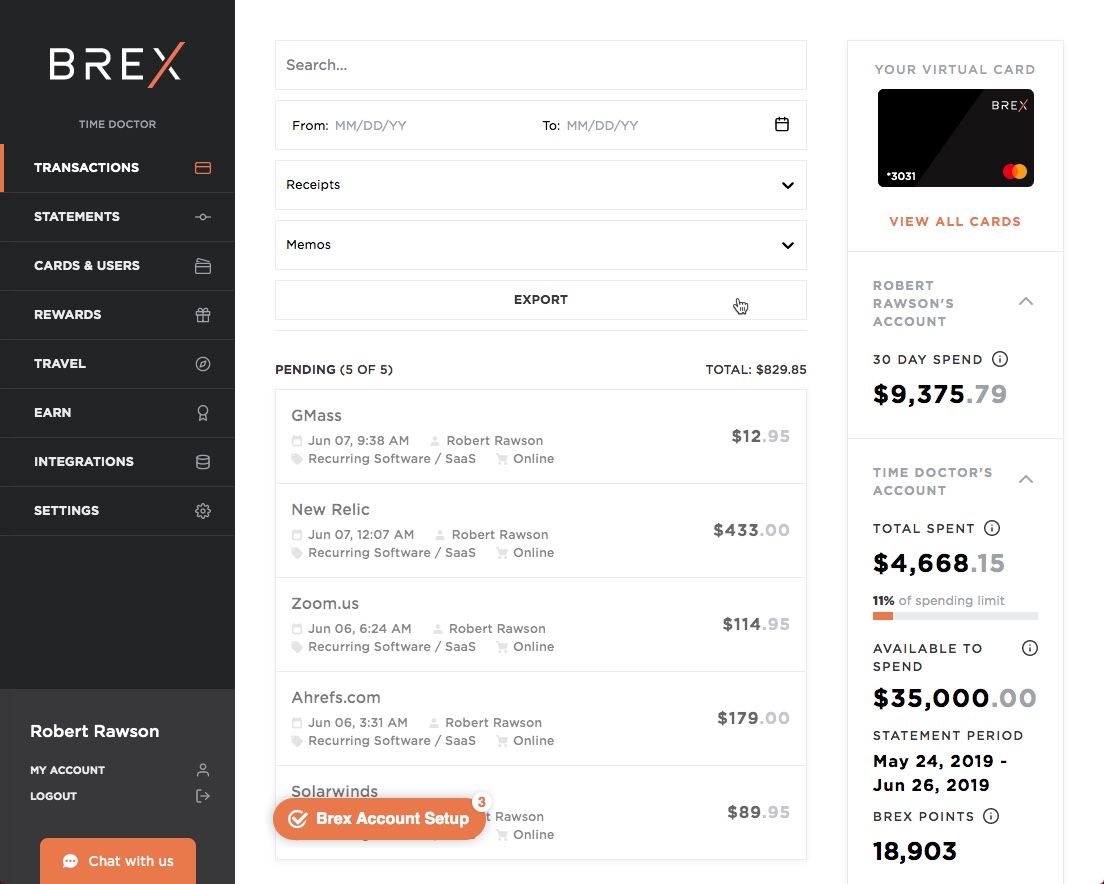 The features
After my card was approved, I logged into our new account and had a good look at all of the features Brex had to offer.
The breadth of features they offer is really impressive.
The first feature that is really worth noting is the ease of getting additional cards. With Brex, if you want a personal card for any member of your team, you can just create one.
You have the option to create either physical cards or virtual cards, depending on your particular needs. This ability to create a card from within the dashboard is something that I have never seen offered by any bank.
Usually, to get a new card, you have to call the bank, wait for them to approve it, and then wait for the new card to come via the postal service.
During all of that time, you are stuck waiting, even if you need the card urgently.
To keep track of these multiple cards, Brex makes it easy to see the amount that each card user has spent within the company so that you can know, at a glance, who has spent money and what they have spent it on.
It is very easy to lock a card if there are any fraud or other issues and then create a new card, just as easily.
The rewards program
If the signup process and special features weren't enough, the rewards program itself is very interesting.
There are two aspects to the rewards program, which we will discuss below: the points system and the special partner offers.
Earning points
You earn points on every transaction, getting one point for each dollar spent.
But Brex offers multipliers for special expenses, meaning that you will earn extra points in areas that startups generally spend a lot of money in.
As I mentioned earlier, Time Doctor spends a lot on recurring software, so getting double points on those charges is great for us.
It is also important to note that there is no cap on the number of points you can earn.
7x on Rideshares. This includes money spent on Uber or Lyft, for example.
4x on Brex Travel. Book your flights, hotels, and Airbnb through the Brex Travel program.
3x on Restaurants. Get extra returns for money spent eating, drinking, and taking employees or clients out for a treat.
2x on Recurring Software Subscriptions. Any software subscription earns extra cash back.
1x on Everything Else. Even purchases that don't qualify for multiplied rewards still earn one point per dollar, so every transaction helps you to save money in the future.
Redeeming points
All of the points you collect from your purchases can be redeemed in one of two ways.
You can either use your points for statement credits by redeeming points for transactions or you can redeem them for Brex Travel.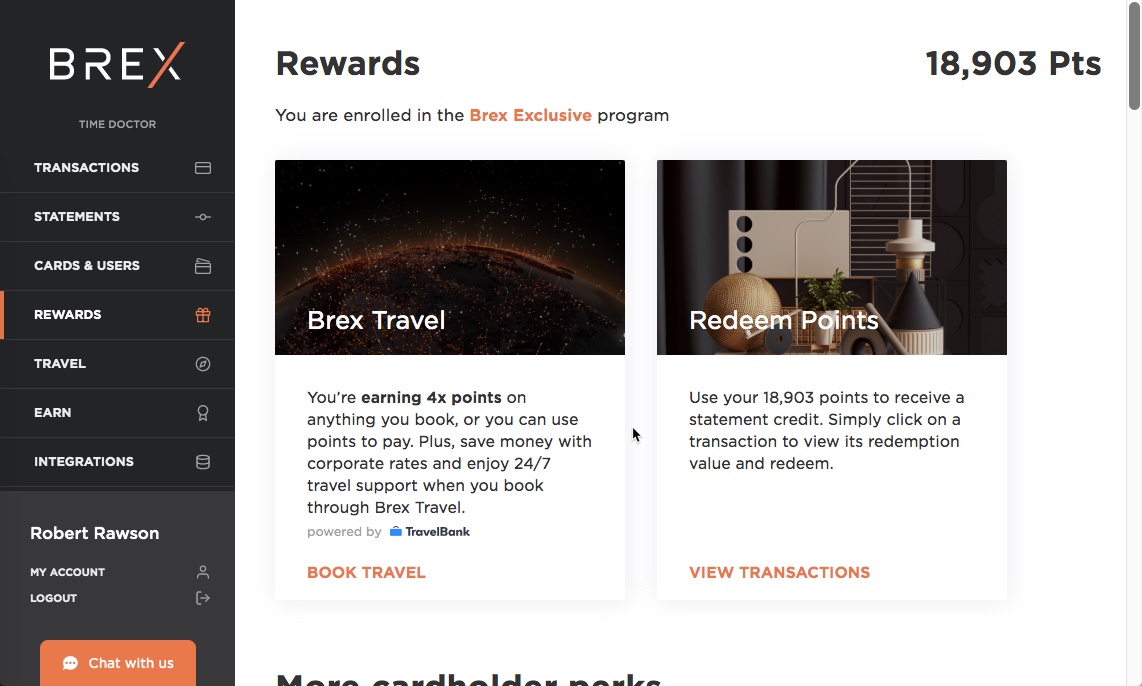 The Brex Travel program allows you to book any kind of travel – flights, hotels, Airbnb, etc. – so there will never be an issue with the availability of flights that you can book.
This is a definite advantage when compared to some airline flight reward programs which often don't allow you to access the rewards when you're trying to book your flight.
With Brex Travel, you always get the travel that you want when you want it.
Partner bonuses and benefits
Apart from the points system, Brex offers a large number of bonuses and benefits from their partner companies. Here is a full list of the current offers:
| | | | |
| --- | --- | --- | --- |
| Amazon Web Services | $5,000 in credit over one year | Instacart | $35 off 3 orders of $75 or more |
| Google Ads | Up to $150 in Google Ads credit | Salesforce | 25% subscription discount, up to $375 |
| WeWork | Up to 15% off list price for 6 months for any new US office space, subject to availability | Knotel | 1 million Brex rewards points bonus |
| Carta | 20% discount on first year subscription and waived implementation fees | Caviar | $35 off of 3 orders of $75 or more |
| Twilio | $500 in Twilio credits to be used over 1 year | Expensify | 50% discount for 6 months |
| Zendesk | $436 credits/month for 12 months | Solium | $500 off first 409a valuation |
| Zoom | 20% discount on annual subscription | Experian | 50% discount on first year business credit monitoring subscription |
| Guideline | $500 setup fee waived | Shippo | 4 months free Shippo Pro Plan |
| Science Exchange | 5% discount on Enterprise License | Zentail | $3,000 off annual Zentail contract |
| DocSend | 3 months free DocSend Finance | Stitch Labs | 2 months free subscription |
| SendGrid | $130/month off of new Pro 100K Plan | Postscript | 25% off any plan for the first 4 months |
| HubSpot | 30% off on first year subscription, and 15% off ongoing | Clear Channel Outdoor | 10%+ discount on first advertising campaign |
The benefit that we have gotten the most value from, so far, is the Amazon Web Service bonus. That is literally $5,000 that we wouldn't have if we hadn't signed up for the Brex card.
So, that, by itself, makes the Brex card absolutely worth it.
Integrations
Brex offers an integration with QuickBooks Online which allows you to automatically send the details from all of the card expenditure into QuickBooks and categorize it correctly.
That's a neat little integration that I also haven't found with a more conventional credit card from a bank.
Integrations are also available with Xero and Expensify to make your accounting process more streamlined and hassle-free.
The other thing that you can do in Brex is to add departments or locations so you can categorize your spending a bit better within the card. This, when paired with the ability to see spending by user, makes keeping track of where your money is going extremely transparent.
Support
I have actually checked out the support that Brex provides a couple of times. After asking them some questions, I found their support to be very quick and friendly.
I had absolutely no problems in getting the answers that I needed.
While that may be what we hope to see from any service nowadays, it is always nice to know that they did answer my questions – and did so with a great attitude!
Brex card review
Because Brex is a startup that actually came out of Y Combinator, one of the most successful startup incubators in Silicon Valley, they have a number of special features that prove that they were extremely user-focused when it came to building the card itself.
Both the speed at which they've built the product and the different features that they have are very impressive.
The fact that they're already ahead of most banks in terms of the feature set of their cards is also remarkable, despite the fact that they have only been around for less than two years (at the time of this article) and that they don't have the same backing as the major banks.
In summary, Brex is a great option for a corporate card for US companies and startups. While, unfortunately, it only works for US companies, it is definitely still a great option to consider.
I like the additional rewards available for software subscriptions and rideshares. I also like how easy it is to apply, as you can do so online without much hassle.
The ability to add cards for any person in our company at a click and, in doing so, organize our expenses easily are also great advantages of the Brex card.
Sign up for Brex now and enjoy these benefits too.
Rob Rawson is a co-founder of Time Doctor which is software to improve work productivity and help keep track of what your team is working on, even when working remotely.