Quality content helps shape the reputation of your company's online presence. Smart companies are beginning to understand that hiring content creators is an important aspect of their sales and marketing engine.
Starting and growing a blog is a combination of having the right tools and creating amazing content. Before we get into the websites, we'd be remiss if we didn't mention 3 main tools that have helped us grow our blog.
3 tools you need to grow your blog
Blog planner
Every single Monday night, the entire marketing team meets up and discusses ideas for the blog. We go over everything from keyword ideas to promotion strategies. And we document everything in a blog planner. That way everyone knows what to do at all times.
You can grab a free blog planner here.
AHREFS
Ahrefs is a software that allows us to find keywords and linking opportunities. This tool is the backbone of our SEO strategy.
Yoast SEO
Yoast is a free Wordpress plugin that gives use the ability to edit our title tags and meta descriptions. This Wordpress plugin helps us rank higher in Google because we can control what visitors see when they search for our keywords.
Now that you have the tools, it's time to hire a writer.
10 sites to hire a freelance writer
More and more find freelance writers to make use of the most cost-efficient opportunities for getting quality content that will represent your brand in the best possible way.
If you've never hired a freelancer in the past, you may feel a bit overwhelmed. How do you get started? Where can you find top talent?
There are several online marketplaces and websites that make it easier for businesses to connect with writing professionals, exchange information and decide whether they'd like to work together.
Below is a list of the 10 best websites and online marketplaces that you can use to search for international and highly experienced content writers. The entries in the list represent websites that feature some of the best writers that you can hire at an affordable rate.
Content Guppy bills itself as a done for you seo content marketing agency. They will create an SEO plan, manage freelance writers (so you don't have to), and publish seo content on your website.
Content Guppy carefully vets each freelancer that they work with in order to ensure the best quality content gets published.
Content Guppy will do keyword research to come up with blog post topics for the next 90 days, optimize the post for SEO, do copy editing, and ensure that posts get published on time,
To get started with Content Guppy, you'll need to schedule a free demo to make sure the service is right for you. Pricing starts at $750 per month.
We'd be completely remiss if we didn't include Upwork in this list. It's the largest freelance platform in the world. Anyone who has ever hired a freelancer or worked as a freelancer is familiar with website.
Odesk and Elance have merged to become Upwork.com and the leader in hiring freelancers and remote tracking software.
Through Upwork, you can find a wide range of writers. There are filters and skill requirements that will help you down the number of candidates to reach out to.
For instance, the image on the right shows a particular filter that will help a business owner find a writer that fits your budget pertaining to a freelancer's expertise, hourly rate or fixed price, and number of previous clients.
These filters are how Upwork enables you to look for native writers, freelancers from certain parts of the world, people that are fluent in specific languages or writers that have a particular number of experience years.
One of the problems with Upwork is that just like every other big platform, it attracts thousands of freelancers with varying levels of talent and experience
Though some of the writers have a stellar reputation, others aren't capable of giving you the quality you desire. In order to find the writer that is best for your business, you'll have to filter through numerous applications to weed out the unqualified writers from those that will give you the type of quality content that will help build your online reputation.
To get started with Upwork, you'll need to create a profile and publish your ad. Publishing an ad happens free of charge. The site makes money by deducting a 10 percent fee from the freelancer's earnings. Try to keep this in mind when creating a budget range within your ad.
Guru is a platform that's once again dedicated to various types of freelance fields. According to official information, Guru has 1.5 million members from all parts of the world. In a sense, this website is similar to Upwork.
One of the cool features that Guru offers is the ability for you to manage your content creation project without leaving Guru.com because of the built in project manager app.
Within Guru.com, you can create agreements, define milestones and tasks, communicate, and share documents. All of the necessary functions needed in order to complete your blog post, email, or website content.
Posting a job on Guru is free of charge but there's a fee that is deducted from the freelancer's payment. Depending on the type of membership plan the freelancer has chosen, this fee can range from five to 10 percent of the total cost of the project.
You have the ability to "shop" for a guru based on price, experience, and reputation.
The cost of hiring a freelancer on Guru.com are reasonably affordable to most small business owners. If you're looking for a nice price to quality ratio, the website is one you should definitely consider trying. To get started with posting an ad on Guru, you will simply need to create a membership account.
Textbroker is the first marketplace on this list that is dedicated strictly to finding writers and content creators. Textbroker is a site designed specifically for businesses who need custom content to help create an online presence.
Textbroker provides multiple options at multiple price points for small business owners. First, you can purchase content by quality. Content is ranked on a scale of two stars to five stars. The more experience the writer has, the more you're going to pay per word.
You can also purchase content either by commissioning an individual author, by hiring a team of writers, or by making your order available to over 100,000 proven, qualified authors.
Within Textbroker, you're able to get extremely specific about the type of content you wish to create.
For instance, you can choose to write a 3 star blog post that is between 400 and 600 words and delivered in 3 days.
To get started on Textbroker you simply need to create a membership account. You can choose pricing based on the package and quality of writer that you hire.
WriterAccess is the second online marketplace we'll be reviewing that is dedicated entirely to helping business owners find freelance writers.
This online marketplace allows you to find up to 16,000 writers living in the United States.
The website allows allows you to manage the work flow of your writing project and place new orders for writers that meet certain qualifications.
And there are various degrees of pricing. At the lowest level is the pay as you go pricing structure where you pay per word starting at 2 cents per word. As you move up in quality, you can pay as much as $2 per word, depending on how much research is required to complete your content request.
If you're an enterprise level business, you can put down a deposit (starting at $2,500) that will give you more features and most importantly, a dedicated account manager.
To get started on WriterAccess, you need to create a membership account and then you can place an ad for a job.

Contently is not for the small business owner. However, it's on this list because it is a leading content creation platform.
Contently bills itself as "The Enterprise Content Platform" where it helps companies connect with some of the highest vetted writers and journalists in the United States.
Its ability to seamlessly integrate its network of freelancers, its analytics platform, and work flow software make it an appealing solution to the company with a high budget.Pricing is not available on the Contently website as you must speak with a content strategist before using the platform. Everything about the service is custom.
To get started with Contently, you can schedule a chat and tell the consultant what your content needs are.
ProBlogger is one of the most popular and authoritative blogs about blogging on the web. It's founder, Darren Rowse built the blog from 0 to 312,000 email subscribers who read the daily articles.
One of the ways the blog makes money is through a job board. The ProBlogger Job Board is where bloggers looking for jobs and companies looking for bloggers to hire meet.
It's important to keep in mind that ProBlogger is a paid job listing website, not an online marketplace like Upwork.
In order to post an ad to the job board, you'll need to pay 50 dollars for 30 days. The quality of the writers is high and the rates will depend both on the topic and the experience of the freelancer.
According to official ProBlogger data, there are over 1,000 writers actively seeking work on their RSS feed. They will also market your ad to their 42,000 Twitter followers and on the front of their website, which is viewed hundreds of thousands of times each month.
On top of having freelancers experienced in the field of writing, ProBlogger also attracts professionals that specialize in design, web consulting, web development and marketing.
All that you have to do to get started is sign up, enter your payment information and publish your job ad.
This is another freelance job board entirely dedicated to writing gigs.
However, you, as a business owner have two options when looking for a writer.
The first option available to business owners is that you can post a job ad, similar to the Problogger job board which costs business owners $10. The quality of writers looking for jobs through AllIndieWriters is high and is affordable to fit within a wide array of budgets. You can pay as little as $10 for a low level email, or you can pay over $1,000 for a well written and highly researched white paper.
Or, you can hire a writer directly from the Professional Freelance Writer directory. There are a few dozen writers to choose from who specialize in a wide array of topics.
The quotes will once again vary on the basis of the writer's experience and the specific parameters of the job.
AllIndieWriters was started as a resource for indie writers and publishers but the scope of opportunities expanded quickly but still features jobs for creative writers as well as business writer.
To post a job on AllIndieWriters, you will be asked to fill out a basic form, select the project budget (from low pay to pro rate) and have the payment processed.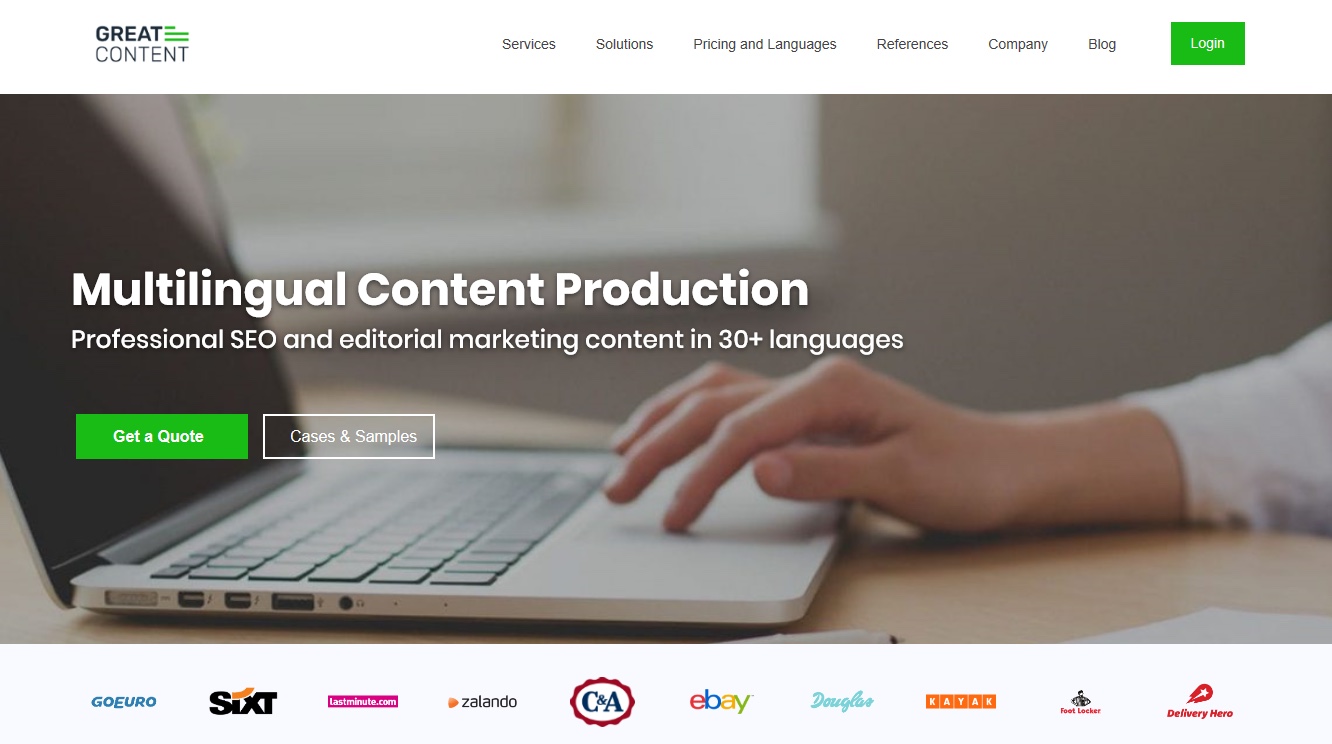 greatcontent has over 10,000 active copywriters and translators in 30+ languages
They provide high quality SEO and eCommerce content for digital companies, ranging from the travel industry to finance, fashion, design, electronics, food, gambling and many more.
greatcontent also provides services such as multilingual copywriting, editing and proofreading, localisation of content, SEO audit (including keyword research) and editorial planning.
Among greatcontent's clients, you can find the biggest European eCommerce companies, including Amazon, Zalando, Ikea, Nike and many more.
This is a job board that features more traditional jobs rather than freelance opportunities. Still, Indeed attracts numerous professionals and checking it out may make sense.
One cool feature that Indeed has is the opportunity to browse through resumes and learn more about the freelance writers that rely on the platform for finding job opportunities.
Posting a job is free of charge, thus you have nothing to lose. Still, the chance of finding an experienced freelancer through Indeed is minimal.
To get started with Indeed, you'll need to create a profile. Once you log into the platform, you'll be asked to write your job ad.
Finally, we've come to the ultimate job listing and classified ads board, Craigslist. It goes without saying that Craigslist is far from a specialized site. There are a wide array of listings, job postings, and other classified ads on the site.
If you're looking for a local freelance writer, you should be able to find one on Craigslist. This is because connecting people locally is the main way in which the platform is organized. Even though Craigslist isn't a writing-focused platform, you will still find plenty of local freelancers looking for work as writers.
The quality of writing professionals that use Craiglist to find work will vary significantly, with no guarantee that you will find someone who is high quality. This means that you need to have a vetting system in place that will filter out unqualifed applicants if you choose to use Craigslist as your primary means of advertising for a freelance writer.
Another downside with Craigslist is that there isn't a way to dispute or get a refund should work not be completed. Specialized freelance platforms like Upwork and Guru give business owners a chance to dispute project execution in case they're unhappy. The support team will be responsible for figuring out whether a refund should be issued. By opting for Craiglist, you're depriving yourself of this opportunity.
To post an ad on Craiglist, you will simply need to choose the respective category and fill out all of the necessary information.
Compose.ly is a content creation platform that pairs businesses with vetted freelance writers. Unlike Textbroker and WriterAccess, Compose.ly does not offer different price tiers for varying levels of quality. Instead, content is priced according to word count and the type of content being ordered (e.g., product description, blog post, white paper, and more).
Compose.ly prices its content this way because it holds its writers to a high standard. In fact, according to its website, less than 1% of its writing applicants actually get accepted onto the platform.
What's more, a dedicated account manager looks for and assigns a qualified writer to your project based on your industry. This way, you won't need to worry about writer qualifications.
Since Compose.ly values quality over quantity, you'll find that its prices aren't as low as content mills. However, this means you can count on it for delivering pieces of content that require little to no editing on your end.
You can get started with Compose.ly in a few different ways. If you prefer to manage content orders on your own, you can sign up for a free Self-Service account and order different types of content on an ad hoc basis.
Alternatively, if you want a larger amount of content or content on an ongoing basis, you can set up a consultation to discuss your specific needs. In this way, Compose.ly works for both entrepreneurs and mid-sized and large businesses.
Conclusion: Picking the best platform
So what does it take to choose one platform or another and can you make sure that you'll get access to the best writing professionals? The answer will depend entirely on your needs and your budget.
If you're looking for top-notch writers that can execute more specialized tasks, you may want to opt for a platform that's 100 percent dedicated to freelance writing. ProBlogger is one such platform. Big freelance portals like Upwork are also great because they attract a huge number of professionals from all parts of the world. Many of the international freelancers working there have native language proficiency but they will charge a smaller amount than a freelancer from the US, UK or Australia, for example.
In case you're not looking for the highest possible quality or you have only a small amount to dedicate to find freelance writers, you may want to try Craigslist. This is one of the best possibilities for keeping the expenses down but you don't get any quality guarantee.
A combined approach will typically be the one that will give you the best results. Start with the platforms that give you an opportunity to publish a free job listing. If you aren't happy with the quality or you'd like to get more specific pitches, move on to the other platforms.
Good luck!
Greg Digneo writes for TimeDoctor.com, a time monitoring and productivity monitoring software designed for tracking hours and productivity of remote teams. If you would like to see where you and your team are spending your time during work, try Time Doctor free for 14 days.