If you've clicked on this headline and landed here, there's a good chance you're managing a remote team and are looking for apps to manage remote teams. Some of your team members may reside in different parts of the country or maybe even on different continents. First of all, congratulations. You are a representative of the first generation of people who are used to work this way. Really, nobody has done it before!
Second, you might find this mode of collaboration very challenging. When people work remotely, it's incredibly difficult to make sure that all of them are on the same page and deliver a really good brainstorming session. Moreover, managing people who live in different time zones is also an issue.
Well, you probably know all this if you're here. In this article, our team at awriter.org has gathered a list of great free apps to manage remote teams that you can depend on even during the peak periods. We are a large team of writers, editors and content marketers located in four different countries around the world, so remote work is something we mastered a long ago.
Let's see which apps from our toolbox you can make yours!
Video and audio communication
For conferences, meetings, brainstorm sessions and other needs, having a video and audio is critical. The tools below provide just that.
One of the most popular online meetings apps, Join.me was designed for individuals, teams, and businesses. It can be used by creating a free account or inserting a meeting code in a special box at the home page. That's it. After the first time, you will definitely want to continue taking advantage of awesome features of this tool. For example, online meetings delivered by Join.me are very easy to start and manage, thus making the process simple and enjoyable (video bubbles with meeting participants can even be moved around and bounced off each other just for fun).
Some of the features include (see the list below the image):
Video

conferencing

Audio conferencing

Full compatibility with mobile devices (iOs and Android)

One-link scheduling

Personal link

White

boarding

Screen

sharing

Webinars
Recommendations from our team
In our experience, join.me has been a great tool for urgent meetings. Each member of our team has an account there so we can be notified about a meeting as soon as possible. That's why we recommend it for urgent video sessions.
One of the most impressive features of this tool is video calls without a PIN number. It works perfectly regardless of a user's location and deliver a great opportunity to engage in a legitimate video conversation. In other words, it is the next best thing to having a real conversation.
Features:
Dialing while mid-call

Muting

of noisy caller

Screen

sharing

Social

profiles of callers

HD audio

Web conferences

Mobile

apps

Custom hold music

Document sharing

Analytics
Recommendations from our team
When we said that UberConference is the next best thing to having a real conversation, we truly meant it. That's why we prefer this tool for planned staff meetings that require attention and discussion.
How can one forget the good old Skype? It remains the most popular video calling app with 74 million users as of 2016, according to Statistic Brain. Also, it has been a default free solution for many companies for years, and for a good reason. The quality of video and audio delivered by Skype is quite satisfying plus group calls and instant messaging are also great. Today, Skype became even better and boasts many impressive features. See the list of them below.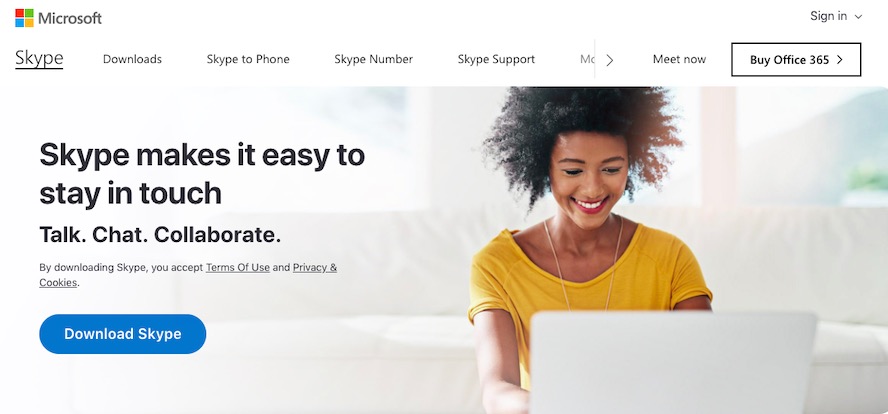 Features:
Video

or voice calls

Group

video calls

Instant

messaging system

Ability

to call mobile and landline numbers

Screen

sharing

Voice

messages

Document sharing
Recommendations from our team
The writers on our team use Skype to connect with editors because they need a reliable mobile app for calls. We even use Skype to call landlines to reach clients, so this tool is pretty much indispensable for us.
The fact that Google has designed this app says a lot. It is a reliable, fast, and functional app that has an intuitive interface and impressive features such as saving videos from YouTube. It is fully compatible with Google services and even greets the user by name when he or she arrives at the home page for the first time (assuming the user is logged in their Google account).
Features:
Video calling

Phone calling

Messaging

Compatibility

with Android, iOS, and desktop
Recommendations from our team
The experience of our content marketers showed that Google Hangouts are a great option for communication with clients. Even though we don't use it for internal communication, we still rely on it when we need to get some info from clients because, well, almost everyone has a Google account now.
Project management
Our list continues with the tools perfectly suited for project managers who need to organize an effective work of remote teams.
ProofHub is another popular project management software that is loved by teams across the globe. Leaders and managers stay in ultimate control of teams, projects and communications as it replaces various apps they need to plan their projects, manage their tasks, collaborate with remote teams and clients and get things done, on time. Remote teams especially love using ProofHub because of its powerful collaboration features. An easy-to-use interface makes onboarding of new team members effortless.
Features:
Task management
Kanban boards
Multiple views
Real-time discussions
In-built chat app
File sharing
Online proofing
Gantt charts
Time tracking
Calendar
Custom reports
The developers of this tool call it "the most intuitive project and task management tool on the web," and for a good reason. Working on projects with Meistertask is incredibly easy because of a simple, user-friendly interface and effective functions. The project boards are adaptive to the workflow of the user and ensure that all collaborators are on the same page. Moreover, they are completely customizable and provide overview and reports of the progress.
Features:
Flexible project boards

Intuitive environment

Overview of tasks and goals

Compatibility

with Android and iOS

Integration with an online mapping app

MindMeister

Document sharing

Workflow automation
Recommendations from our team
We absolutely love customizable project boards of this app. If you want a real good visualization of your projects as well effective collaboration in real time, be sure to give MindMeister a try.
Another project management platform for remote teams that allows to perform all tasks with ease. It's incredible for team leaders because it has a rich functionality and a user-friendly interface. The developers of Apollo did a great job at simplifying each task as much as possible to ensure that the platform allows efficiency.
Features:
Creation of tabs on contacts and leads

Scheduling duties

Task organization

Email integration

Whiteboards

External users

Project

milestones

Time tracking

Discussions with team
Recommendations from our team
This tool is preferred by out content marketers because of great customization features like favorite projects, tags, categories, and templates. If you need these functions for your work as well, feel free to try this app for your remote team.
Project management requires a lot of paperwork that needs to be clear and concise in order to be properly understood by all team members. This next tool can be used for creating appropriate descriptions of projects as well as other textual materials. As the result, your descriptions and analysis will be always clear and straight to the point.
Features:
Professional business writers

Fast turnaround

24/7 support
Recommendations from our team
Whenever we need some additional help with writing, we turn to Assignment Helper. These guys have been very responsive in our experience and we appreciate their help. That's why we think they are a good option for your writing needs.
Everyone uses and loves Google Docs, Gmail, Drive, and other tools designed by the search giant. With Google Apps for Work, you can give your team the opportunity to work with these popular tools. Here, they are combined in one package that allows to connect with colleagues, create presentations, text files, and other documents, share them, and manage files and users.
Features:
All Google apps, in one place

30 GB of online storage per user

Professional email addresses

Group

mailing lists

Advanced admin controls

Easy data migration

Central storage hub

Synchronization from anywhere with a web-enabled device
Recommendations from our team
If your remote team works with a lot of documents, Google Apps is a must. It protects the data from being lost as well as provides great functionality for business-related needs.
Another popular project management tool with an impressive list of users (Samsung, Dropbox, Uber, Intel, Tesla, and CBS are among them!). Asana is very versatile and can be used by designers, engineers, sales professional, HR managers, product planners, and even students to manage projects from start to finish. For every type of user, it delivers a unique set of functions to meet all needs.
Another great feature of Asana is integration with popular web services. For example, it can be used as an add-on to Google Chrome, thus allowing to add tasks easily and quickly. Also, it has a built-in Google Drive file chooser for attaching files.
Features:
Task management

Project

management

Reporting

Team collaboration

Workflow management

Calendar

Work tracking

Event planning

Request management

Document sharing
Recommendations from our team
Asana is perfect for assigning particular team members with tasks, that's why out editors use it to assign writers with daily and weekly responsibilities and share files with them.
Here's what Jerry Low, founder of Web Hosting Secret Revealed has to say about Asana:
It's hard to keep track on projects when team members are located at different geo-locations. Asana is the perfect tool for project management and timeline tracking. I have a team of 6 members and I assign tasks to them (including myself) through Asana. I like "My Tasks" which is the first navigation tab you see when login to the platform. This is the tab that helps everyone to focus on what to do next. Everyone in the team shares the same "Team Calendar" and "Team Conversations" view. So, we have a clearer view on who is working on what and the due dates.
If you are a web designer or otherwise work with design, this tool is perfect for you. A well-known tool Canva just got better in terms of managing design project with the new Canva for Work solution. It retains all essential from the original tool and adds project management functionality, such as customizable templates for team's marketing materials and documents. Team collaboration options also impressive, with sharing, access controls, and team stream to help users to achieve their goals.
Features:
Folder sharing

Team templates

Access controls for teams

Team stream for sharing

Database of images, fonts, and layouts
Recommendations from our team
If your remote team includes designers, you should give this one a try because it provides an easy and intuitive way to manage design projects. It can be used for something as simple as social media infographics and as complex as website design.
Screen sharing
An easy tool for screen sharing that does not require installation of plugins, apps, or sign-ups. This allows Screen Leap to be viewed from any possible device with a browser. Moreover, it is a great tool for those team managers who require a quick collaboration without any barriers like account creation.
Features:
Installation-free viewing

Quick

and easy screen sharing

Document sharing
Recommendations from our team
Use Screen Leap for easy screen sharing, even on the go. A lack of registration requirement makes this option very popular plus the quality of the technology is really good.
This tool is also a 100 percent browser based and does not require downloads and installations. However, a user still can create an account to personalize the experience a little bit.
Features:
No downloads, completely browser-based

Video and voice conferencing

Ability

to connect with up to 25 participants in real time

Remote control

Presenter switch

Mobile

apps

Session scheduler

File transfer
Recommendations from our team
Mikogo is a great screen sharing platform because it provides a high-quality video as well as session recording function. For example, if you need to record a video session, you can easily do it using a computer or a smartphone. Also, our team loved the Scheduler. It is a function that ensures that you'll never miss a meeting.
Security
Every team needs appropriate security solutions to prevent data and information leak. The following section contains effective security apps designed specifically for online collaboration.
This tool provides the user with a complete control over the access to the most important information of the team. The access rights of every member can be easily controlled in the admin console, which also allows to recover locked-out user accounts. By using this solution, team managers make it really simple and safe to share all passwords with everyone in the office.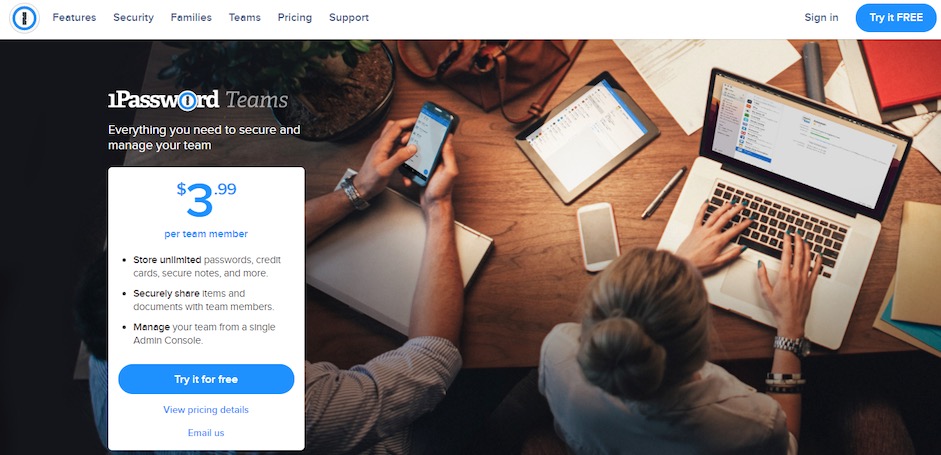 Features:
Remembers passwords for all services (online accounts, social security

numbers, etc.)

All data is protected by Master Password created by the admin

Use of PIN code or fingerprint to unlock the app

Full integration with popular browsers

Digital

wallet

Autosave and fill

Advanced encryption
Recommendations from our team
An all-in-one solution for managing passwords that will eliminate problems with passwords once and for all. Just assign a person to be the admin who will share the passwords and manage security.
This is a powerful online code editor that keeps all data safe. Cloud9 assumes all responsibility for maintenance and security of projects while the users worry only about the work. As a result, one gets a safe workplace for coding and designing.
Features:
No need for system setup and maintenance

Collaboration in real time

Language tools

Built-in terminal

Debugger

Run panel

Split view

Themes

Key bindings editor

Built-in image editor
Recommendations from our team
Real-time public or private collaboration is the main advantage of this tool. You coders will appreciate the intuitive environment provided by Cloud9.
Task lists
If you need an app specifically designed for tasks rather than a complete project management package, there are some really good options available. Check them out below.
This app has actually started as everyday task manager but quickly expanded to businesses. Today, people use it for any kind of tasks, from reminding to buy some groceries to professional errands. Wunderlist is available for all popular operating systems, which allows a seamless synchronization and management of multiple projects regardless of location.
Features:
Makes

it easy to perform personal and professional tasks

Task assignment to particular persons

Comments and folders

Task sharing and collaboration

Compatibility with Android, iOS, Windows, and Kindle Fire
Recommendations from our team
Our team uses Wunderlist because it's the easiest and one of the most sophisticated task tools out there. It's perfectly suited for team use because the tasks can be assigned to people by an admin. And it works with every device, so every team member will receive their tasks as planned.
This tool allows a remote team to be more effective through daily check-ins and progress reports. Every team member can be assigned to provide daily status updates in their browser or email and prepare progress reports to inform the leader about what has been done and what is getting done. The testimonies of the customers are great because I Done This provides unprecedented visibility into their productivity and areas that need improvement.
Features:
Daily status updates

Progress reports

Easy collaboration
Recommendations from our team
With this tool, you team will be happier because it makes it easy to monitor tasks and keep everything in-sync. What we especially love about I Done This is progress reports that show how your team is doing. They are perfect for use in case you need to provide a manager with a daily or weekly performance report.
Time tracking
Obviously, remote teams need time tracking tools to identify how much time they spend on certain tasks. As the result, the leader can see the most and the least time-consuming tasks and plan the milestones accordingly.
If you're looking for a simple and intuitive solution for time tracking for remote teams, look no further. Harvest meets all these requirements plus it supports connecting with 70+ popular business apps, tracking expenses with receipts, and creating and sending invoicing payments online. From the insights provided by this tool, one can confidently estimate future tasks and projects, thus ensuring the profitability of business.
Features:
Track time with incredible precision thanks to timers

Compatibility with iOS and Android

Seamless integration with many popular apps and browsers

Invoices and payments

Intuitive admin panel

Tracking team members' performance to prevent burnout

Statistics and analytics

Easy editing

Automatic reminders

Timesheet approval

Progress visualization

Data export into Excel, CSV and Google Drive
Recommendations from our team
Flexible time tracking is what we love about this tool. For example, one can track time during working on the project or manually add hours after the project is completed. Stats, notes, and daily reports make Harvest perfect for teams.
The next tool on our list was designed specifically for tracking time in remote teams. Hubstaff is a downloadable solution that makes it really easy to track time for team managers, thus allowing to produce accurate invoices, provide in-depth reporting, and pay team members accordingly. According to the official site of the app, more than 8,000 teams use it on a daily basis. Such popularity is no surprise because Hubstaff is a really effective time tracker and monitor of activity levels monitoring tool.
Features:
Compatible with Mac, Windows, Linux, Chromebook, iOS, and Android

Desktop times take screenshots to measure time

Measurement of activity levels of team members

Monitoring of performance in real time

Team management

Task assignment
Recommendations from our team
Hubstaff is used by more than 8,000 remote teams daily, and for a good reason. A rich functionality and user-friendly interface make it a simple but effective solution. Your managers will love it as well because it automates many of their tasks, this making their work efficient and more enjoyable.
If you really want to know if your team members wasting time on Facebook while they should be working, try Time Doctor. It will eliminate this issue through individual time logs, screenshots, and other solutions. Moreover, Time Doctor is great for determining the most and the least time-consuming tasks and increasing the efficiency and improving deadlines. The official site of the tool claims that terms that use Time Doctor actually increase their productivity by 22 percent on average, which is pretty good. No more Facebook during working hours!
Features:
Time logs, screenshots for time tracking

Payroll

calculation

Chat monitoring

Compatibility with mobile (iOS and Android)

Impressive customization
Recommendations from our team
If your company has some issues with employee productivity, you should definitely use TimeDoctor. Desktop monitoring for remote teams is a good solution that helps to oversee employee activities and manage the team more effectively. It's very sophisticated, too, with automatic screenshots and activity levels based on mouse and keyboard usage.
File management
File transfer and storing is another critical element for remote teams because they need to exchange a lot of files on a daily basis. The tools below are designed to make that exchange easy.
Before we begin the description of Huddle, it should be noted that it is trusted by many government agencies like Department of Homeland Security and NASA. Although we've put this tool in the File Management, it is kind of all-in-one solution to manage remote teams because it allows collaboration on projects, transfer and edit files, and manage the activity of the team. All these processes are protected by the latest security solutions. Huddle makes project management and document transfer and collaboration really easy and secure, thus enabling remote teams to be effective and efficient.
Features:
Collaboration

File sharing

Project

management

Mobile

apps

Advanced security

Compatibility with popular apps and browsers

Recommendation engine to find necessary files

Personal dashboard

Compatibility

with enterprise content management tools like Dropbox and OneDrive
Recommendations from our team
Huddle is perfect for creating a secure workspace that provides everything your team needs to manage content and tasks, collaborate, and communicate. All files are automatically updated by the tool to ensure that everyone has the latest version without the need to request it, which makes collaboration more efficient.
The title of the tool explains the purpose of the tool pretty concisely: it is a virtual "box" where all files uploaded by the team are stored. Cloud technology allows us to share and edit them from anywhere with limitations that can only be set by the admin. All operations with the files can be done in real-time from computers and mobile devices, which makes it really useful for those who need to work on the go. Box also has pretty impressive security solutions to protect the files and ensure a secure end-user experience. Among the users of Box are Microsoft, IBM, SalesForce, and Symantec.
Features:
Meets international data residency requirements

Provide advanced encryption to protect the files

Easy access, edit, and sharing

Cloud storage allows access from anywhere

Versions for clients from various industries, including media & entertainment, professional services, financial services, healthcare, retail, and construction.
Recommendations from our team
If you're planning to move to cloud technology to allow your remote team to have secure access to content without any limitations in terms of location and device, Box can be a great option. By enabling users to do that, it helps to create a more connected and productive workplace even if your team members are thousands of miles away from each other.
Another great cloud solution for accessing, editing, and sharing files for remote teams used by some well-known customers, including Aflac, Philips, and Starbucks. One Hub provides a number of roles for the users, including Administrator, Moderator, Creator, Downloader, Printer, and Viewer. Each of these roles has unique rights and privileges; for example, Viewers are only allowed to browse the document and often cannot make edits (if not approved by the Administrator).
A cool feature of One Hub that sets it apart from other tools is the customization. For example, brands can use their own logo and colors to personalize the working environment within the tool and make collaborations a more polished experience for users. Also, customers of One Hub also emphasize effective security solutions provided by the tool.
Features:
Storage: drag and drop uploading, folder organization, full-text search, and archive downloads

Sharing: user management, secure links, user invitation

Permissions: agreements, invitation to a particular folder or file

Previews: online viewer, many supported file types

Collaboration:

dashboards, messages, integration with Google Drive, comments, and

activity reports

Customization:

logo and colors, branded emails, custom domains
Recommendations from our team
One Hub has a lot of amazing features but we included it in the File Management section because we really liked its solutions in terms of storage, sharing, permission management, preview, and document collaboration. For example, any team member can comment, collaborate and communicate on every file, which makes it easier to work with files. Moreover, the tool seamlessly integrates with Google Drive!
Timezone management
Often, team managers have to deal with people in different time zones. To ensure continuous collaboration and lack of communication issues, feel free to try the tools below.
Need to compare the time in different cities without add-ons and other software? Home Slice is an online solution that essentially is a comparison page. Just enter two cities and the tool will display the necessary information so you could determine the difference between the time zones. As the result, you will know when team members' working hours are.
Features:
Browser-based solution

Time

zone comparison
Recommendations from our team
You will never find an easier tool than Home Slice to determine time differences. No need to install anything, set the cities you're interested in and the app will generate the information you need.
TimeZone.io is an awesome time zone management solution that takes it to another level in terms of visualization. The user can create a dashboard with the locations of the team members and upload their photos to create a beautiful visual representation of time zones (as shown on the screenshot below). The tool also provides a total number of team members and cities as well as the differences between the zones to keep the user fully informed.
With TimeZone.io, you will never have to Google "Time in …" again because the complete information about all team members is just one click away. In case if some urgent work is needed, you will have an idea who is online and who will be available later.
Features:
Beautiful customizable dashboard with time zones of all team members

Avatars for all team members

All-in-one-place solution
Recommendations from our team
We recommend this tool because it is a rather beautiful representation of location of team members. We stopped searching for other similar solutions when we came across this one because, well, it's simple, effective, and individualized.
The final among the apps to manage remote teams is 10to8 — an appointment scheduling software that can help rid your business of wasted time.
You can quickly organize and manage meetings with your clients as well as your remote team. The flexibility of customization makes it a perfect tool for businesses with complex scheduling needs. You can reduce no-shows by up to 90% with features such as two-way chat, automated email and text reminders, and personalized booking pages.
Features:
2-way calendar sync with Google, iCal, Exchange, Office 365, and Outlook

GDPR, HIPAA, and CCPA compliant

Online payments with PayPal, Stripe or Sage Pay

Integrates with 1500+ applications including Microsoft Teams, Salesforce, Zoom, MailChimp, and Google Classroom


Offers a free forever plan

Effective staff coordination

Powerful reporting and analytics
Recommendations from our team
We suggest 10to8 because it is a time-saver that increases effeciency of remote teams with its amazing booking experience irrespective of different time zones.
Wrapping up
Remote working can be difficult, especially when team members are located in different corners of the world. Thus, keeping them on the same page requires some additional effort. In this case, only reliable and proven tools could be helpful to address issues and ensure flawless collaboration and effective teamwork.
All these tools are either free or available for free trial, so feel free to try them to see what works. We tried to cover most of the essential areas of managing remote teams so we hope this list will be useful for you to improve the performance of yours.
Happy managing!
---
About the Author:
Lucy Benton is a marketing specialist, business consultant who finds her passion in expressing own thoughts as a blogger. She is constantly looking for the ways to improve her skills and expertise. If you're interested in working with Lucy, you can find her on Facebook and Twitter.
Greg Digneo writes for TimeDoctor.com, a time monitoring and productivity monitoring software designed for tracking hours and productivity of remote teams. If you would like to see where you and your team are spending your time during work, try Time Doctor free for 14 days.